This time David Wise had to settle for second best. The flamboyant Reno skier earned a silver medal Friday in the Olympic halfpipe competition in Beijing.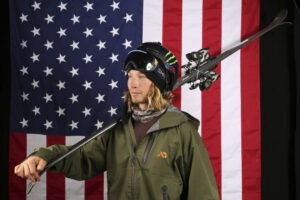 The 31-year-old Wise won Olympic gold in Sochi in 2014 and PyeongChang in 2018. He sought a three-peat in Beijing, which would have made him the first freestyle skier to win three straight Olympic golds in the same event.
Weather played a factor in Wise's attempted three-peat. While Olympic Alpine skiing at Yanqing shut down for the day because of high wings, freestyle skiing at Zhangjiakou went on, generating both frustration and outrage from some skiers.
Winds at the Genting Snow Park whipped in from Mongolia, chilling temperatures to a feel of minus-12 degrees and causing havoc across the board at the men's halfpipe final.
Winds averaged 15 mph and huge gusts were taking place about every 20-30 seconds, making it extremely difficult for skiers to pull off their planned tricks in the 22-foot high halfpipe.
"If anything, when it's really windy, it's kind of a little bit of an advantage for me because I have these guys outweighed by 30 or 40 pounds," Wise laughed. "You just kind of embrace it and say, 'All right, this is the conditions that it is.' Certainly, we would all like it to be a little nicer, but you have to go out there and do what you can on this day."
New Zealand's Nico Porteous won gold, followed by Wise, and U.S. skier Alex Ferriera took bronze. In his final run, bothered by the wind gusts, Wise lost momentum halfway through his trick set and couldn't secure enough height to dislodge Porteous.
Porteous held the first-round lead after a brilliant run that earned a 93.00 score. Wise had a strong first run in the halfpipe with a score of 90.7,5 and Ferreira's top run was an 86.75.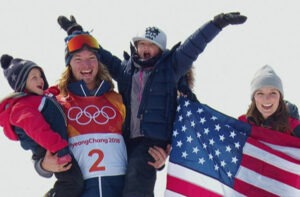 Ironically, the podium was the same as at the 2018 Pyeongchang Games, just in a different order. Four years ago, it was Wise, Ferreira and Porteous.
DAVID WISE FILE
Name: David Wise
Sport: Freestyle Skiing
Event: Halfpipe
Height: 6-0
Weight: 185
Born: 6/30/1990
Hometown: Reno, Nev.
Home resort: Northstar California
High School: Wooster High School (Reno, Nev.) 2008
College: Truckee Meadows Community College
Family: Wife Alexandra, daughter Nayeli, son Malachi
Olympic medals: Gold in 2014 & 2018; Silver in 2022
Wise, who has trained at Northstar California for many years, had a roomful of supporters back home, including his wife and two kids, at a watch party at the Renaissance Bundox Bocce in downtown Reno.
Because of COVID-19 restrictions, Wise's wife, Alexandra, and his children, daughter Nayeli, and son, Malachi, weren't able to attend the Olympics in person. The three celebrated with Wise on the mountain when he captured gold medal in PyeongChang.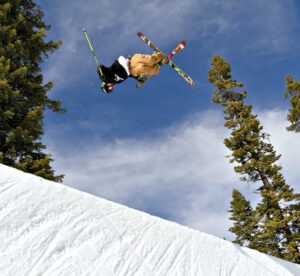 It quickly became apparent that artistry was a secondary consideration behind mere survival Friday. All the top scores came on the first of three attempts, while the next two rounds were fraught with many falls.
The second round proved a struggle, eight of the 12 skiers, including four of the top five, recorded worse scores than their first round.
"So impressed with the heart people showed today," Wise wrote on his Twitter account. "Wish we could have had better conditions. But that's the nature of competitive sports. Thanks for all the support everyone."
On the final run of the competition, top qualifier, Aaron Blunck of the U.S. had a scary crash in his third turn down the halfpipe.
Wise ran in snow boots from the base of the halfpipe up to check on Blunck, who was able to eventually sit up and ski down under his own power after a minute.
Just before Blunck went, NBC Olympic freestyle skiing analyst Tom Wallisch commented – "These conditions are abysmal right now."