Olympic skier David Wise won't have his family in Beijing, but the next best thing is happening – family, friends and well-wishers will be in his hometown of Reno at a watch party.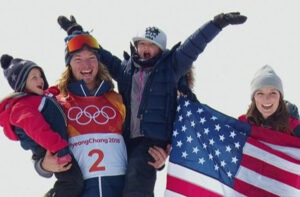 The Northern Nevada supporters of Reno's born-and-raised Wise can cheer him on Feb. 18 (5-7 pm) during a watch party at The Renaissance Bundox Bocce in downtown Reno. The event will also serve as a fundraiser.
Wise headed to the Beijing Olympics with the confidence of someone who has already produced on the sport's largest stage.
It's three-peat time for the flashy Reno freestyle skier. And it's probably not – pardon the pun – wise to bet against the two-time gold medal winner doing it again. He's definitely ready for the challenge.
He will take his bag of tricks into the Beijing halfpipe, feeling like he's the favorite to emerge with gold draped around his neck again, extending his title as the only man to ever win Olympic gold in the halfpipe.
"I really, truly feel like I'm going to be the hardest guy (to beat) because I have nothing to prove," said Wise, who lives in Reno with his wife and two children. "I just get to go out there and enjoy the ride. I'm not going to be stressed."
Wise won Olympic gold in Sochi in 2014 and PyeongChang in 2018. He seeks a three-peat in Beijing, which would make him the first freestyle skier to win three straight Olympic golds in the same event.
Click on David Wise video of winning gold in 2018 games.
Because of COVID-19 restrictions, Wise's wife, Alexandra, and his children, daughter Nayeli, and son, Malachi, won't be able to attend the Olympics in person. The three celebrated with Wise on the mountain when he captured gold in PyeongChang.
"We're making lemonade out of lemons by having this party," Alexandra said. "We've never had this opportunity before because we've always been at the Olympics. So. this is our chance to kind of give back to Reno and just say – 'Thank you.' Reno has supported us for eight years, and this is our chance to give back to you guys."
DAVID WISE FILE
Name: David Wise
Sport: Freestyle Skiing
Event: Halfpipe
Height: 6-0
Weight: 185
Born: 6/30/1990
Hometown: Reno, Nev.
Home resort: Northstar California
High School: Wooster High School (Reno, Nev.) 2008
College: Truckee Meadows Community College
Family: Wife Alexandra, daughter Nayeli, son Malachi
Olympic medals: Gold in 2014 & 2018
The watch party will be a fundraiser for Sky Tavern, a non-profit where thousands of kids from Reno, including Wise, have learned to ski. All of the ticket sale proceeds and onsite donations will be given to Sky Tavern's Snowmaking Capital Campaign.
Wise, a six-time X Games medalist, including four golds, has typically risen to the occasion for his sport's biggest events. He had to reach the podium on the final Olympic qualifier to get into these Olympics. He appears to be in good form after earning a bronze medal at the X Games, the last Olympic tune-up.
This is potentially the last Olympics for the 31-year-old Wise.
"I think we're kind of on a four-year cycle," Alexandra Wise said of the family's routine. "We joke around because we go through this interim in between each Olympics where it's really low. So, we have these high points and these low points, and so COVID fit right into our low point."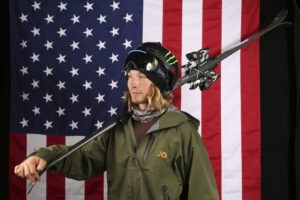 General admission tickets to the watch party cost $50. The event includes free giveaways, two drink tickets, gourmet appetizers, a photo opportunity with Alexandra Wise and David's gold medals and exclusive VIP silent auction. VIP early entry, with doors opening at 4 p.m., costs $150.
ONE MORE SHOT AT OLYMMPIC FAME: It's intoxicating, competing at the Olympic level and having the opportunity to achieve worldwide fame.
Wise obviously knows the feeling and would love to experience it one more time. His legacy already established, he understands as well as any skier what it will take to succeed.
"Skiing has made me who I am today, so to play even a small part in the sport's history is an amazing honor," Wise told Tahoe Quarterly writer Allison Bender. "You can rest assured that I am already working on new things that I hope to unveil at the Olympics. I get one more chance. Let's do this."