Drive too swiftly along scenic Highway 89 on Lake Tahoe's picturesque west shore and it's easy to overlook the road that heads into this historic Norwegian-like village.
Mention the name Granlibakken and many Tahoe visitors will offer a quizzical look, shrug their shoulders, and respond with a "never heard of it" reply.
Occupying 74 beautifully wooded acres in this quaint mountain setting, Granlibakken is located a half-mile from Tahoe City. It provides a link to the past, a reminder that some ski hills were once small in stature. This one hasn't changed – it's still devoid of the sophistication that typifies today's mega resorts.
The Tahoe region is known internationally for its famous ski resorts. On Tahoe's north shore, the stunningly gorgeous mountainous valley at Palisades Tahoe (formerly Squaw Valley) hosted the 1960 Winter Olympics, immediately putting the Tahoe region on a world-wide stage that it has never left.
Less than an hour away lies Heavenly, another jumbo ski resort that has a reputation globally for its size (28 lifts, 4,800 skiable areas) and its close proximity to the massive, elegant blue waters of Lake Tahoe. There's also another roughly dozen ski resorts in the Tahoe vicinity, some large, some modest, that put this region on the radar of any skier or rider looking for an adventurous ski vacation.
However, for folks seeking a low-key, isolated getaway that won't put a huge dent in the bank account, Granlibakken is a splendid choice. It's hilly terrain offers an authentic Tahoe experience, complete with a ski history that dates back nearly 100 years when tobogganers discovered what they viewed as the perfect hill, sheltered in the Sierra pines at 6,350 feet.
HISTORIC OLYMIC TIES: In 1929, seven-time Norwegian ski jumping champion Lars Haugen designed a ski jump hill at what's now known as Granlibakken. He cleared an area of trees and established a 60-meter jump that became known as Olympic Hill. Three years later, once obscure Granlibakken had a national reputation, hosting the 1932 U.S. Olympic ski jumping trials and the U.S. Championships.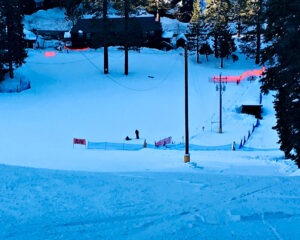 Following World War II, Granlibakken became the first official ski resort in the Tahoe basin, where two years later Squaw Valley put down roots in its modest beginnings in 1949.
The glamour and allure of this famed Olympic hill is long gone. What's left at Granlibakken is a tremendous family-friendly resort with a humble ski and sled area that does one thing particularly well – creating memories for generations of skiers and snowboarders, many of them young kids who cut their teeth on this historic hill.
A lone tow rope carries skiers and snowboarders to the top of a small hill for the quick downhill trek. On the opposite side of the ski slope, a sledding area receives much more attention. Kids of all ages come smiling down the hill, sometimes trailed by their camera-toting parents or grandparents.
For roughly eight decades, Granlibakken – translation means "hill sheltered by fir trees" – has been known as a great winter playground in the Lake Tahoe basin. It offers a variety of modern-rustic lodging options, onsite amenities, and outdoor activities for guests of all ages.
FAMILY-FRIENDLY VACATION SPOT: New York residents Kelly and Carl Jost arrived in Tahoe just after the severe snowstorms ended in mid-January this year. They planned to spend three weeks at Granlibakken with their 8-year-old son Conor, who was taking ski lessons and also enjoying plenty of time sledding and exploring the trails that make this area ideal for hiking, snowshoeing and cross country skiing.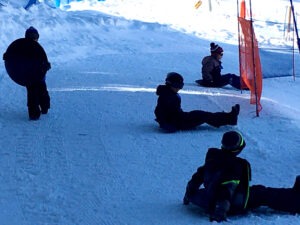 "Granlibakken is definitely a terrific family resort," said Kelly, whose parents own a home in Granlibakken. "It's such a friendly place and everything – dining, skiing, sledding, hot tub, heated pool – is so convenient, even during the peak times on busy weekends. It offers a great balance of family fun."
DJ Ewan, Granlibakken's director of business development, says 60% of the homes on the resort's property are privately owned. There are rental homes, but most vacationers chose one of the resort's lodging options that includes 1-3 bedrooms, studios, suites, and large townhouses that can accommodate up to 16 people.
Rooms start at a very reasonable $159 per night and include a free full breakfast and access to the hot tub, pool area and gym facility. There's also an on-site, cozy restaurant with a unique assortment of menu selections.
VARIETY OF LODGING OPTIONS: Many of the lodging options come with a complete kitchen, living room, fireplace, outdoor deck, and convenient free parking. Although Granlibakken is a location where one never needs a car, downtown Tahoe City is less than two miles away, offering shops, restaurants and a charming walk along the lake.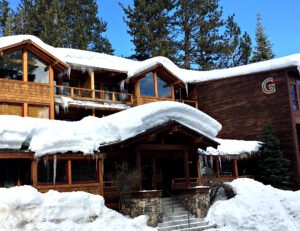 "This is an incredibly beautiful part of the world," said Ewan, who grew up in South Africa. "Granlibakken is a quiet place that is great for reconnecting with each other. Some people come here for a vacation and never leave. But it's also very close to many places in Tahoe, so you have a bunch of options of things to do. And you can get around quickly from our location."
Not all Granlibakken visitors are on vacation. Some of them are there to learn. While the winters are mostly inhabited with people seeking a snowy getaway, Granlibakken becomes a popular conference destination in the warmer months. Groups as small as four people or up to 400 can rent out conference space, which is available year round.
For lodging guests, ski and snowboard rentals and lessons are available at bargain prices, along with metal sleds and access to the hill. The ski hill area offers a reasonably priced lunch and beverages, bathrooms, changing areas, outdoor seating tables, and even a warming hut to escape the elements. Lodging at Granlibakken comes with 50-percent off sledding and a lift ticket.
FUN SNOW PLAY HILL: Although the ski hill is a great beginner area, more experienced skiers and snowboarders prefer staying at affordable Granlibakken and taking a short drive to nearby Palisades Tahoe on the "stay and ski" agreement that offers discount rates for the neighboring ski resort.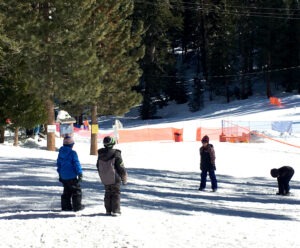 "We're very appealing to families who are looking for a snow experience, not necessarily a ski experience,' Ewan said. "We're not in competition with resorts like Palisades Tahoe and Northstar. We appeal to a different group of people and provide a much more affordable proposition."
Snow activities are the primary lure in the winter, but Granlibakken also provides a major source of fun in the summer months. Kids of all ages and many adults are enamored with the Treetop Adventure Park course situated on the Granlibakken property. Participants climb to an initial starting point on a tree platform, then travel through the forest on an aerial trek anywhere from 15 to 50 feet off the ground.
The park is comprised of a series of courses linking tree platform to tree platform with a variety of bridges and zip lines. The facility has 97 platforms, 27 zip lines, 60 bridges and 10 different courses. It's a major destination for birthday parties. The cost ranges from $59 to $73. Ages 5-and-above are eligible to experience the Adventure Park.
Granlibakken is located on 725 Granlibakken Road. For more information, visit www.granlibakken.com or call 800 543-3221.