The newest brewery in Truckee – the Good Wolf Brewing Company – will officially open Saturday, Feb. 1.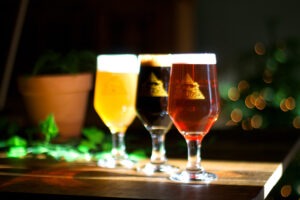 The Good Wolf will offer a selection of hop forward, forest-inspired craft beers that will flow smoothly after skiers and snowboarders experience a long day on the slopes, or serve as just a quick one after work. A soft-opening took place in late November with one beer on tap, a juicy IPA called Neon Rainbow. The Good Wolf has since released four new beers with plenty more on the way.
For its official grand opening there will be eight beers on tap, with brews like a single origin Australian grown hop IPA, a tart cherry sour pie, and a heritage corn lager rotating on a regular basis. There will also be live music and food from local vendors.
The taproom is located at 10990 Industrial Way, Suite B103, Truckee.
The 50-seat tasting room, lined with moss and a verdant jungle of plants, isn't a typical industrial brewery tasting room. Owners Matt and Heidi Petyo, who designed the space themselves, aimed to exude a lush, rustic vibe with a warm feel, while using colors and textures inspired by the area's natural setting.
The tasting room was designed to feel like a secret locals' spot that people always dream of finding. It also comes stocked with classic board games for those looking for some old-school entertainment.
Focusing on bringing people together is one of the couples' favorite parts about their new business. Since their soft opening, they have already organized fundraisers, live music, trivia nights, and movie marathons.
"The community we've found in Truckee has been incredible in the short time we've been here," Heidi said. "We're really looking forward to contributing to our new community and having a family-friendly space that
brings people together. Whether meeting old buddies or trying to make new friends, we're super proud of the space and hope our entire community feels at home here."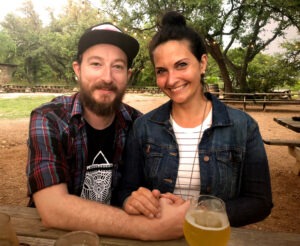 The Petyos are both Northern California natives. Following the Camp Fire in late 2018, the couple decided to return back to the state to be closer to home. They came across the space, formerly a pre-existing brewery, and have
been working tirelessly since August to prepare the space and brewing materials to open.
Matt is the lead brewer and has spent time working for renowned breweries like Sierra Nevada Brewing, Seattle's Elysian Brewing, Oskar Blues Brewery, and Wildcard Brewing. A hops aficionado who regularly forages for fresh ingredients, Matt says he enjoys "exploring and experimenting with unique hop varietals and creative beers that push the boundaries of the brewing tradition."
For more information, visit www.TheGoodWolfBrewing.com.