Lake Tahoe is known worldwide as an incredible destination for winter sports.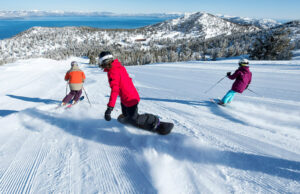 Straddling the border between California and Nevada, historically Lake Tahoe's altitude meant it received reliable snow most years. Although climate issues are one primary reason that trend is not as constant, Tahoe ski resorts were breaking seasonal records in the 2022-23 season.
The huge snowfall totals this winter were good news for the dozen or more ski resorts in the area like Heavenly, Palisades Tahoe, Kirkwood, Diamond Peak and Sugar Bowl. If you needed an excuse to head to Lake Tahoe this winter for some skiing, the gigantic snow totals were certainly a good reason.
But even if you're not much of a skier or snowboarder, Tahoe is still a fantastic place to visit in the winter. Dress for the weather, and you can have a great time exploring this incredible natural outdoor wilderness.
Winter in Lake Tahoe: While Lake Tahoe may be famous for its many ski resorts, there is so much more to do here than just skiing and snowboarding.
Leave your bags behind at a convenient luggage storage and try some of these fun activities for yourself. Before you know it, you'll be planning your next trip to this beautiful winter wonderland.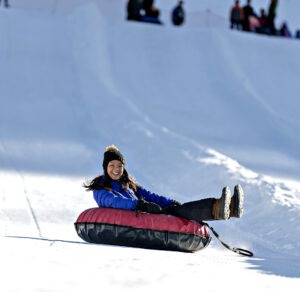 Note that you can make things easier by leaving the heavy bags behind at a convenient luggage storage in Lake Tahoe. Travel light and it will be much easier to enjoy these fantastic winter activities and attractions (listed below) in the Tahoe area.
Tubing and Sledding: Just because you're not a skier doesn't mean you can't enjoy the many Lake Tahoe ski resorts. Few things in winter, especially for kids, are more fun than sliding down the fresh powder of a well-groomed ski slope on a tube or sled.
Tubing or sledding are great activities for families with little ones too young to ski, but it's also fun for adults and will bring back memories of one's own childhood snow days.
People can buy inflatable tubes and even sleds from local stores around Tahoe, and some ski resorts also rent equipment and offer their own sledding hills. Check out Spooner Summit Snow Play Area, nine miles south of Incline Village, for a fantastic sledding hill. But also be aware to bring your own equipment – there are no amenities, including bathrooms.
Alternatively, places like Granlibakken offer sled rentals that you can take out on their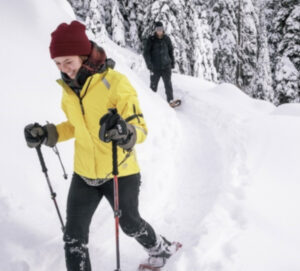 groomed sledding hill.
Tube Town at Soda Springs is another great location that has 20 different lanes of sledding fun. Most Tahoe ski resorts have at least one sledding hill to try, so there's no lack of places to go for sledding and tubing.
Snowshoeing: When the snow starts to fall in Lake Tahoe, the virtually endless regional hiking trails turn into great places for snowshoeing.
One of the best things about this sport is that just about anyone can do it. The snowshoeing equipment is quite minimal, and you don't need any special skills.
Simply buy or rent a good pair of snowshoes and be ready to trek through pristine forests and see a different side to the stunning natural environment of Lake Tahoe.
When snowshoeing in Lake Tahoe, it's better to stay on low-altitude trails, as the higher trails can be too difficult to manage on snowshoes.
If you're unsure of where to go or would just like someone to show you some of the best spots, several companies offer guided snowshoeing tours so you can experience the best of the forests and mountains at this time of year.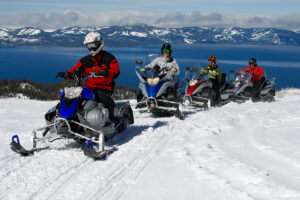 Snowmobiling: To get your adrenaline pumping and explore some truly remote places in Lake Tahoe, snowmobiling is a great way to do it. Suitable for everyone except younger kids, these machines are the perfect way to see more of the area in winter if you're not athletically inclined.
There are companies around the lake that offer snowmobiling tours of the region, revealing some of the best and most beautiful areas of Lake Tahoe. These companies will also assist in helping you learn how to operate a snowmobile safely for maximum enjoyment.
Participants can drive their own snowmobile or sit back on a tandem machine and let someone else handle the driving. Either way, it gets the heart racing as you fly through the snowy forests under the bright white snow of the mountain slopes.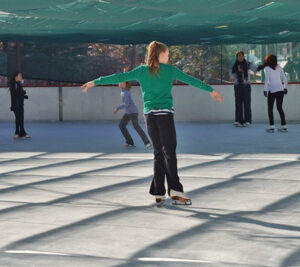 Skating: Although it never really feels as cold in Tahoe as it should, given the amount of snow the area receives, winter is certainly cold enough for outdoor ice skating.
There are outdoor skating rinks at Heavenly Village in South Lake Tahoe and Palisades Tahoe in North Tahoe. Skate rentals are available, so you can get some laps in and enjoy the scenic winter beauty of Lake Tahoe at the same time.
Hit the Spa: Lake Tahoe is one of the world's most celebrated outdoor destinations, but that doesn't mean you have to spend your entire time outdoors.
After a day in the cold, nothing beats a little pampering, and the top Lake Tahoe hotels offer plenty of places to spoil yourself in some soothing hot water.
Check out the Stillwater Spa at the Hyatt Regency in Incline Village or visit Zenergy Massage in Truckee for incredible wellness treatments that provide a relaxing soak and more.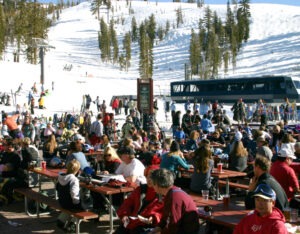 Après Skiing: Even hardened skiers will admit that one of the best things about a day spent on the slopes is afterward. All Tahoe ski resorts offer this fun post-skiing experience. Remember, you can enjoy this Après skiing even if you didn't hit the slopes that day.
Enjoy delicious cocktails and meals by a crackling fireside with gorgeous views of the surrounding area. Whether you skied that day or not, one can still have a wonderful time after the ski day winds down.