The Village at Palisades Tahoe is an excellent lodging location any time of year when visiting the iconic Lake Tahoe ski resort that hosted the 1960 Olympics.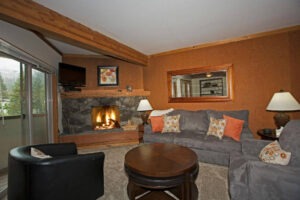 The Village at Palisades Tahoe features five buildings that are all are centrally located and walking distance to a world-class ski resort. This is a terrific lodging location for pursuing any nearby activity – winter or summer. The Village has a friendly feel with seemingly something for all ages.
On a stay in early May 2023, my wife and I enjoyed a one bedroom condo for two nights. We loved the condo and the gorgeous window view and private balcony overlooking the Village and the beautiful ski hill at Palisades Tahoe, formerly Squaw Valley.
The fantastic news is due to record-setting snowfall (723 inches), skiing and snowboarding will be available into summer this season, with a closing date scheduled for July 4.
And the great thing about a lodging stay later in the year – the Tahoe region is even more gorgeous in the summer and early fall months. So, a visit to Tahoe is very appealing any time of year.
Our one bedroom at the Village at Palisades Tahoe, while not overly spacious, had decent closet space and an area to hang up and store folded clothes. The queen bed was comfortable and the room came with a mounted TV on the wall with lots of channel options.
If children are part of the equation, certain condos have a living room that is perfect for kids. There's a bunk bed in the far side of the living room that can sleep two or three kids. The living room also had a comfortable pullout couch, two chairs, gas fireplace, and enough room for an entire family to lounge around during the evening.
Both rooms feature a kitchen with many of the amenities you find in your own kitchen at home. We had an oven for cooking, dishwasher, good counter space, silverware, knives, pots-pans, and a decent size refrigerator. It's a great way to save money – eat at home!
The condo buildings feature multiple hot tubs and a sauna that heats up enough to sooth at active person who came back from a day of skiing. The hot tubs are a favorite of families, especially in the afternoon and early evening in ski season.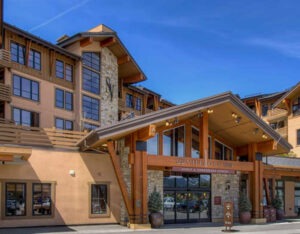 There are multiple restaurants in the Village, all with a different focus, including an Irish pub – Auld Dubliner (AKA The Dub). It has a wonderful happy hour, typically a lively evening crowd, and has friendly bartenders and staff.
For folks who love to browse or shop, the Village features some high-end stores, several ski-oriented locations, and other shops that are appealing to men, women and kids. An ice cream location, a Starbucks and another location – Coffeebar (that seems to be a favorite of locals) – are popular places to congregate.
There are additional shops and restaurants closer to the famed Olympic ski hill. It's very convenient; there's not a ton of walking to get to one of the lower-level base ski lifts or hopping on the Gondola for a scenic journey up the hill.
The Village at Palisades Tahoe is the type of place where you drive the car into the underground parking location once you get there and there's no need to use it again until checkout day.
For more information, visit www.palisadestahoe.com.