Near record-breaking snow totals this season will allow Palisades Tahoe ski resort to remain open through the July 4th weekend.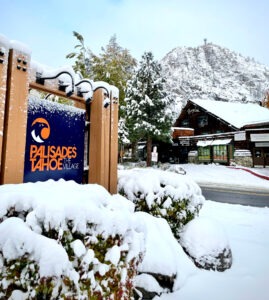 Several other Tahoe ski resorts have recently pushed back their closing date due to excessive snow amounts for the 2022-23 season. But it appears that weather permitting, Palisades Tahoe will once again have the latest closing date of any California ski resort. Anyone purchasing a 2023-24 Ikon Pass will be able to ski or ride – starting April 10 – until the end of the season.
As of Thursday morning (March 23), Palisades Tahoe had received nearly a foot of new snow over the past week, hiking its total to 673 inches this season at its summit. The resort (formerly Squaw Valley) says over the past 25 years it has averaged approximately 400 inches of snow per season. This year's total is only 35 inches from breaking the all-time mark of 707 inches in 2016-17.
"Thanks to an unforgettable winter with more than 55 feet of snow through mid-March, we are extending our ski and snowboard season into the summer," Palisades Tahoe spokesperson Patrick Lacey said Thursday. "We are super stoked to be open until the Fourth of July."
A year ago, when Palisades Tahoe had a season snow total of 350 inches, it received 86 inches in April on its upper mountain, more snow than accumulated in November, January, February and March combined. A huge December snow total saved many Tahoe ski resorts from having a second straight disastrous season in regard to snow totals.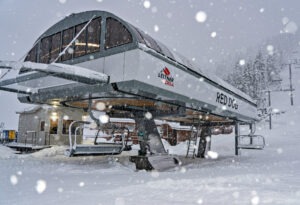 The 2020-21 season was a dismal one for all California ski resorts. Palisades Tahoe received a mere 281 inches of snow for the entire season.
PALISADES TAHOE'S HIGHEST SNOW TOTALS
2016-17: 707 inches
2010-11: 678 inches
2022-23: 673 inches (as of March 23)
2018-19: 652 inches
2015-16: 518 inches
2005-06: 505 inches
2009-10: 424 inches
2004/05: 407 inches
ALPINE SIDE WILL REMAIN OPEN: Operations at Palisades Tahoe, will look a bit different this year than in summers past. Typically, the resort runs the Funitel on the Palisades side to its upper mountain throughout the warmer months. But this year, the resort is replacing the haul rope on its Funitel, thus closing the Palisades side of the mountain May 29.
This season the Alpine side (formerly Alpine Meadows) of Palisades Tahoe will be open Fridays, Saturdays, and Sundays for skiing and snowboarding throughout May and continuing through the Fourth of July weekend.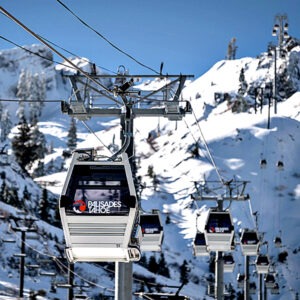 Pushing back its closing date to Memorial Day Weekend, last year Palisades Tahoe once again offered the longest season among Tahoe ski resorts. Kirkwood had the second latest closing (May 1). The majority of Tahoe ski resorts closed last year by April 17. Mammoth Mountain was the only other California ski resort that was open until May 30.
IMPORTANT DATES TO KNOW: Below is the lift operation schedule for spring and summer.
APRIL
The last day for the Base to Base Gondola is Sunday, April 30
On Saturdays, starting April 8, if weather is clear, KT-22 and Summit or Roundhouse stay open until 5 pm
MAY
The last day for the Funitel is Monday, May 29 (Memorial Day)
The last day for Aerial Tram is Monday, May 29 (Memorial Day). It reopens June 23 for summer sightseeing and activities
JUNE
Alpine is open Fridays, Saturdays, and Sundays for skiing & snowboarding throughout the month
Palisades is closed to skiing & snowboarding, but Village at Palisades Tahoe is open
The Aerial Tram at Palisades is open for daily sightseeing and activities beginning Friday, June 23
JULY
Alpine ONLY is open for skiing & snowboarding July 1-4
Palisades will NOT be open for skiing & snowboarding, but Aerial Tram is open for sightseeing and activities
The Village at Palisades Tahoe is open daily throughout the summer.
For more information on Palisades Tahoe , please visit our website.