Olympic skier David Wise heads to Beijing with the confidence of someone who has already produced on the sport's largest stage.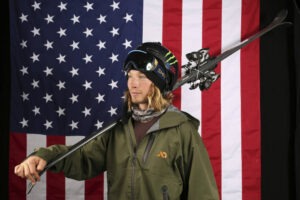 It's three-peat time for the flashy Reno freestyle skier. And it's probably not – pardon the pun – wise to bet against the two-time gold medal winner doing it again. He's definitely ready for the challenge.
Wise qualified for his third straight Winter Olympics in early January by finishing second at the U.S. Grand Prix in Mammoth Mountain.
He will take his bag of tricks into the Beijing halfpipe feeling like he's the favorite to emerge with gold draped around his neck again, extending his title as the only man to ever win Olympic gold in the halfpipe.
Click on David Wise video winning gold in 2018 games.
"I really, truly feel like I'm going to be the hardest guy (to beat) because I have nothing to prove," Wise said. "I just get to go out there and enjoy the ride. I'm not going to be stressed."
His biggest challenge might be out-performing two of his teammates. In taking gold in Pyeongchang, China four years ago, Wise narrowly edged Alex Ferreira of Aspen for gold. Aaron Blunck of Crested Butte was a serious medal contender and Nico Porteous of New Zealand took the bronze medal.
All four skiers will be vying for gold again in Beijing.
"I get asked often why the American halfpipe team is so strong and I believe that's because we have that rebel spirit," Wise said. "We are here to do things differently than everyone else."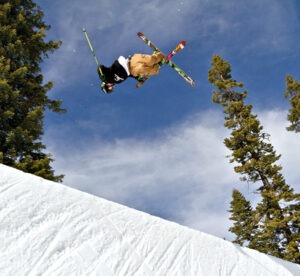 ALWAYS THE DAREDEVIL: The 31-year-old Wise has always possessed a little rebel from within.
His father, Tom Wise, was a ski racer and his son was supposed to follow in his footsteps. But speed alone wouldn't be enough. The younger Wise was constantly trying to grab some air or venturing into the alluring halfpipe.
David Wise slipped into skis for the first time at age 3. A year later, his first major crash occurred, becoming his oldest memory of being on skis.
Unafraid of the consequences, Wise took on a big jump and landed in a deep pocket of powder.
"I was a crazy little kid. I just sunk into the snow," Wise told Jonah Fontela, in a story she wrote for Olympic.com. "The combination of the cold and the pain, and the fear made it one of my earliest memories."
Pushing the boundaries became Wise's thing. His first time in the halfpipe took place at Alpine Meadows in Tahoe. Some older skiers decided to stage a contest – the goal was seeing who could go the highest in the pipe.
Assessing the situation, the 11-year-old Wise understood by going really fast he could also go really high. He went the highest, but also had the roughest landing, smashing his face into his knee, resulting in one eye swelling and eventually unable to open.
It was a welcome-to-halfpipe-skiing moment for Wise. "It was gnarly. But I won the height contest, so I guess I got what I wanted," he said.
His father was not enamored with the results. Yet gradually. the younger Wise convinced his dad that his future was not pursuing excessive speed, it was predicated on how many daring tricks he could execute in the halfpipe.
"He wanted me to grow up to be a ski racer like he was," Wise recalls. "It took some convincing, but I think he's OK with the way things turned out.
The new pursuit was a much better fit for Wise.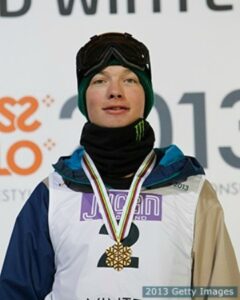 "Freeskiing got started because people got sick of doing moguls and wanted more terrain and more jumping," he said. "We're rebels at heart. We don't like to be told what we should or shouldn't do."
TWO-TIME OLYMPIC CHAMP: At the beginning of his career, Wise was seemingly everywhere, competing in big air, slopestyle, aerials and moguls. However, his true love was the halfpipe and eventually that became his specialty.
Despite gold-medal performances in 2013 at the Winter X Games, US Grand Prix and WIS World Championships, no one outside the tight World Cup ski community knew of Wise as the Sochi Olympics approached.
Although half-pipe skiing had been part of the Winter X Games since 2002, it didn't debut in the Winter Olympics until 2014. A rising star, the 23-year-old Wise was perfectly positioned for greatness in the new Olympic endeavor.
Sloppy halfpipe snow conditions, that in some areas were a pool of slush, forced most skiers to scale back their planned routines. That included Wise, who abandoned his "A Game."
"This was Run C or Run C combined partly with Run B," Wise said of his Olympic performance that night. "I was changing my run from moment to moment during practices just because the conditions were always changing. Sometimes it was fast, sometimes it was slow. Being adaptable was a huge advantage for me."
His full bag of tricks wasn't displayed, yet Wise was still overjoyed when he was one of the few to throw down double-cork jumps and 1080-degree spins en route to the gold medal.
The victory earned the admiration of teammate Blunck, who finished seventh at Sochi.
"David is right now on top of the sport. He's the best. He's proven it multiple times," Blunck said. "He comes out in any condition and has amazing fun. He's the dad out of the (U.S.) group."
Four years later, it wasn't the snow that was hindering Wise, it was his bindings. He frustratingly popped out of his bindings twice in aborted attempts, leaving him just one more run down the Pyeongchang halfpipe.
Still clinging to the dream of repeating as Olympic champion, Wise delivered in a huge way. He made nary a mistake during his third trip down the humongous 660-foot halfpipe. His score of 97.20 pushed him past Ferreira and into first place.
"Pyeongchang was like a fairytale," recalls Wise, who was contemplating playing it safe in his final run. "My coach said, 'you didn't come here to land a safety run and get bronze. If you fall, you fall.' So, I went for it and got the highest score of my career. It was definitely the best run of my life."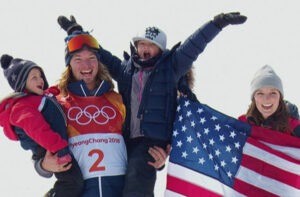 DEALING WITH ADVERSITY: It was a constant challenge for Wise to maintain focus on skiing after the Sochi Olympics. A man with immense faith, it was pushed to the limit throughout an exasperating period of several years.
Wise's beloved sister Christy nearly died in a 2015 Florida boating accident that left her without a right leg. Mentally strong like her brother, she refused to abandon her challenging career. Now a major in the Air Force, she is the only female above-knee amputee that has returned to full active duty as a pilot.
Closer to home, the Wise family was dealing with plenty of serious drama. In 2016, Wise received a distressing call from his panicked wife (Alexandra). Their 18-month-old son (Malachi) had stopped breathing, had convulsions, and turned blue.
Thousands of miles away, at the X Games in Norway, all the helpless Wise could do after comforting his wife was pray. Malachi survived and eventually was diagnosed with having a febrile seizure, a condition that can take place when a child has a sudden hike in body temperature.
The couple had previously grieved over multiple deaths of loved ones. Alexandra's father died and so did each of their grandmothers. Not long after that, a member of David's youth group committed suicide.
"It was a super difficult time and we were going through a lot of loss. In the same way that it served to make me stronger as an athlete, all of that adversity just served to bring us tighter as a family," Wise said.
DAVID WISE FILE
Sport: Freestyle Skiing
Event: Halfpipe
Olympic medals: Gold in 2014 & 2018
Height: 6-0
Weight: 185 pounds
Born: June 30, 1990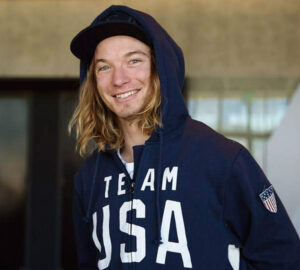 Hometown: Reno, Nev.
Home resort: Northstar California
High School: Wooster High School (Reno, Nev.) 2008
College: Truckee Meadows Community College
Family: Wife Alexandra, daughter Nayeli, son Malachi
More adversity followed. The high of capturing a second gold medal was followed by a serious injury. In April 2019, Wise shattered his femur in three pieces after crashing into a three-foot sheet of ice while doing some filming in Austria.
Due to complications such as blood clots, pneumonia, or infection, a serious femur fracture can be a life-threatening injury. Fortunately, Wise was eventually whisked away in a helicopter and received the medical attention he needed.
"When I was up in the helicopter, I realized I wasn't going to die, so that was kind of good," Wise said with a wry smile.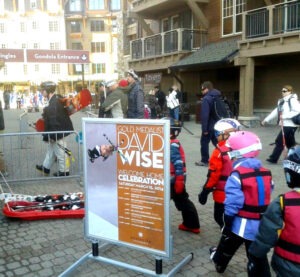 NORTHSTAR CONNECTION: Although he's skied all over the Tahoe region, Wise considers Northstar California his home mountain.
He was a member of the Northstar Pro Team in 2013-14 that included snowboarders Shawn White, Chas Guldemond, Elena Hight, and Eero Ettala.
Northstar set aside a day to honor Wise after he captured his first gold medal in 2014.
He signed autographs, skied briefly with adoring fans, and took center stage at an afternoon ceremony in the Northstar Village.
"Basically, I showed up and looked pretty," joked Wise. "I was hanging out at Northstar, slapping high fives and signing autographs. Northstar welcomed me home with a bang."
He wasn't a Northstar athlete earlier in his career, yet Wise frequently trained at the ski resort for a decade and credits some of his success to the impeccable design and builds of Northstar's parks and pipes.
"My own family loves skiing here. It's close to home and I can rely on some of the best and most reliable ski conditions in the West," Wise said in 2013.
No longer officially connected with Northstar, Wise still frequents the mountain with his family.
"David has his kids in our program and is a part-time coach," said Northstar spokesperson Ashlee Peterson. "He rides and trains with our race kids as a mentor and coach – 10-15 times a year. He is actively involved with our Freeski and snowboard staff as well. He's an awesome guy!"
ONE MORE SHOT AT OLYMMPIC FAME: It's intoxicating, competing at the Olympic level and having the opportunity to achieve worldwide fame.
Wise obviously knows the feeling and would love to experience it one more time. His legacy already established, he understands as well as any skier what it will take to succeed.
"Skiing has made me who I am today, so to play even a small part in the sport's history is an amazing honor," Wise told Tahoe Quarterly writer Allison Bender. "You can rest assured that I am already working on new things that I hope to unveil at the Olympics. I get one more chance. Let's do this."
A Wise thought indeed!