Following one of its shortest offseasons in resort history, Mammoth Mountain ski resort was back running lifts Friday (Nov. 10) in its season opener.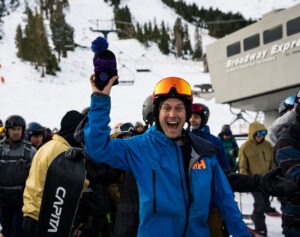 Less than 100 days after the close of the last ski season, Mammoth Mountain is back at it, allowing anxious skiers and snowboarders to make some turns as the 2023-24 gets underway.
Mammoth is located on California's Eastern Sierra range, approximately 100 miles south of the Nevada state line and 50 minutes from the eastern gate of Yosemite. Early snowfall and favorable weather conditions for snowmaking prompted the early opening.
Last season, Mammoth enjoyed a record-breaking winter with 885 inches of snowfall at its summit. Mammoth's Aug. 6 closing this year marked the end of the second-longest season in the resort's history, due largely to one of the largest snowfalls that a California ski resort has ever seen in one season.
There was a sizable crowd of skiers and riders gathering at Mammoth for the start of the season. Joani Lynch, the resort's Director of Business Operations, said a mid-November opening isn't unusual and that Mammoth has opened as early as October.
"What is unusual is we just shut down three months ago," Lynch said.
MAMMOTH IMPROVEMENTS: This year, Mammoth officials say the skiing experience will be better, with improvements and enhancements. Among the updates are a new-and-improved chairlift known as Chair 16, which is ready to make its debut. The old lift was replaced with a new higher capacity detachable chairlift, which officials say will increase uphill capacity by up to 25% and reduce wait times at Canyon Lodge.
Additionally, Mammoth said it invested about $5.5 million to "expand, automate and maximize efficiency" of its snowmaking system.
"This continued investment in snowmaking and related systems allow Mammoth to provide an exceptional snow surface for skiers and snowboarders, particularly in the early season," a Mammoth spokesperson said.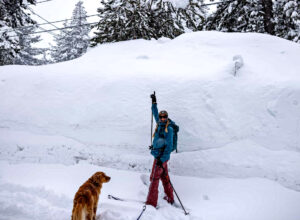 Below is what to expect during Mammoth's opening weekend.
All skiing and riding operations will be centered around Main Lodge. Canyon Lodge and The Mill will remain closed.
Mammoth will operate Broadway Express (1), the lower Panorama Gondola to McCoy, and Face Lift Express (3), offering access to Broadway, Saddle Bowl and Times Square for skiing and riding.
There will be no beginner terrain available during this initial period.
The Panorama Gondola will run to the summit for scenic rides exclusively Friday through Sundays. Chairlifts will operate from 8:30 a.m. to 4:00 p.m.
Mammoth Unbound will feature a small terrain park on the rider's right of lower Broadway.
Officials say as the season progresses, terrain expansion will continue to be based on snowfall and snowmaking. Visitors are advised to ride with caution as "early season obstacles" will be present.
ROSE'S FRIDAY OPENING: The 2023-24 ski season began in Lake Tahoe with Mt. Rose opening Friday, once again becoming the first Tahoe ski resort to begin running its lifts for skiers and snowboarders.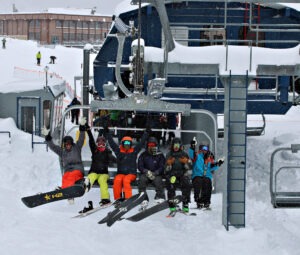 Located off the Mt. Rose Highway and approximately 10 miles from Incline Village in North Lake Tahoe and 25 miles from Reno, Mt. Rose announced earlier this week it would kick off the season one day later than it was projected.
Almost exactly a year ago to this year's opener, Mt. Rose was also the first Tahoe ski resort to begin the season, starting on Nov. 11.
A recent storm, plus multiple windows of opportunity for Mt. Rose's snowmakers to fire up the resort's snowmaking system, allowed skiers and riders their first turns of the season. Mt. Rose snowmakers have been busy making snow from top-to-bottom.
"Mt. Rose has the highest base elevation (8,260 feet) in Tahoe and primarily Northern and Eastern exposure, meaning we have the ability to make snow more often when conditions permit," said Mike Pierce, Mt. Rose marketing director. "We benefit from the colder temperatures we experience, which often translates to better snow quality."
Thanks to some more expected snow next week and low evening temperatures, there could be three more Tahoe ski resorts open a week from now – Heavenly, Northstar and Boreal. Weather permitting, the Thanksgiving weekend (Nov. 23-26) could see seven Tahoe ski resorts open for holiday skiing and riding.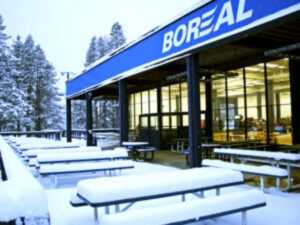 TAHOE SKI RESORTS – TENTATIVE OPENINGS
Mt. Rose: Open Nov. 10
Northstar California: Nov. 17
Heavenly: Nov. 17
Boreal: Nov. 17
Palisades Tahoe: Nov. 22
Sugar Bowl: Nov. 24
Soda Springs: Nov. 24
Kirkwood: Dec. 1
Diamond Peak: Dec. 7
Granlibakken: Dec. 15
Sierra-at-Tahoe: TBA
Homewood: TBA
Tahoe Donner: TBA