Nearly four months after most U.S. ski resorts shut down for the 2022-23 season, the curtain will finally come down Sunday on Mammoth Mountain ski resort.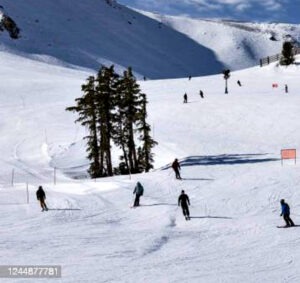 Located on California's Eastern Sierra range, approximately 100 miles south of the Nevada state line and 50 minutes from the eastern gate of Yosemite, Mammoth Mountain often stays open into June or July. But August? Not too often.
Mammoth's Aug. 6 closing this year marks the end of the second-longest season in the resort's history, thanks to one of the largest snowfalls that California has ever seen in a year.
Mammoth received a staggering amount of snowfall this season, the most in resort history. It got 885 inches of snow at its summit and 715 at its base lodge area. In an average season, Mammoth usually gets around 400 inches of snow at its base.
"We are stoked to announce that we're staying open until Aug. 6," Mammoth recently announced on its Instagram account.
The snowfall total is huge and so is the resort. Mammoth has more than 3,500 skiable acres, and has 30 lifts that access roughly 150 trails. With reportedly 1.3 million annual skier visits, Mammoth is currently the third most frequented ski resort in the U.S.
Ski and snowboard hours Sunday (Aug. 6) will be 7:30 a.m. until noon. The resort will be operating three lifts.
Mammoth's total this season was 500 percent of the average snowpack. Due to favorable conditions, the resort had an earlier opening then expected – Nov. 5, 2022. Mammoth quickly received large boosts from the snowfall, with early projections showing that the resort could make it to July.
However, as Spring turned into Summer, operations didn't wind down. On Fourth of July, usually considered a date weeks or even months into the off-season, the resort was still going at full strength due to all the snow.
This is only the third time in the resort's 69-year history that Mammoth has remained open into August. The other two times were 1995 and 2017.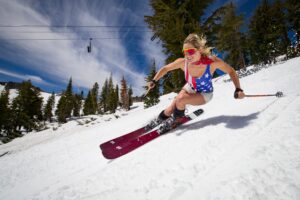 "This year on Fourth of July, almost the entire upper mountain was open," said Mammoth Mountain spokesman Tim LeRoy. "It was basically full go. That's very unusual. What separated this year from past seasons is how well the snow held up as spring transitioned to summer. Mammoth was planning on closing sometime at the end of July, but then when we got close to that we realized we could go a little further."
PALISADES TAHOE: Following an extremely long season, Palisades Tahoe was the last resort open in Lake Tahoe this season, shutting down for good on Fourth of July.
That's right, there was Fourth of July skiing and snowboarding this summer, thanks to 723 inches of snowfall the Tahoe ski resort received in the 2022-23 season, the most in resort history.
Aside from Palisades Tahoe, no other Tahoe ski resort was open past the middle of May. Diamond Peak closed May 1, Heavenly stopped running its lifts May 7, and Kirkwood concluded its season May 14.