Shaun White will host an Air + Style event Saturday, Jan. 6 at Bear Mountain ski resort.
Some of the biggest names in snowboarding will be competing at Bear Mountain with the Winter Olympic looming in early February. The event will draw 50 of Southern California's best riders, who are competing for a chance to compete for the big prize later this year at Air + Style LA.
Olympic commentary: Shaun White returns to Olympics with something to prove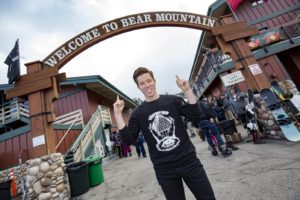 White, a two-time Olympic gold-medal winning snowboarder, will host the event. Although not competing, White is currently trying to qualify for the upcoming Olympics.
Nestled in the heart of the San Bernardino National Forest, Bear Mountain is a short, scenic drive from many Southern California locations. The ski resort currently has seven lifts open.
The competition is free to enter and open to the first 50 riders to sign up – riders under 18 years old must have a parent or guardian complete a liability release prior to competing. One rider (male or female) will be selected by a panel of judges based on best overall impression.
The course layout is an assortment of technical features built by Bear Mountain's award-winning Park Crew, including handrails, kink rails, closeouts, and combo features
Registration is from 8 to 9:50 a.m., practice goes from 10-11 a.m., and the competition begins at noon.
White will host the awards ceremony at 2 p.m., followed by a musical performance from Travis Barker.