It was a qualifying session and U.S. snowboarding icon Shaun White had already reached the goal: qualifying for the finals.
But Tuesday at the PyeongChang Olympics, White wanted more. He was anxious to also send a definitive message that he was back.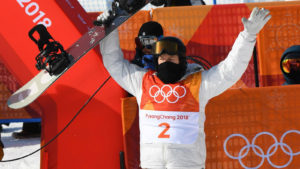 That's right, "The Flying Tomato" is back, evidenced by the way he was flying in the halfpipe. After putting together an inspiration score of 93.25 on his first qualifying run, it was assumed that White would pull back a little in the second run. After all, what would it prove if he produced another high-point effort in the second run?
Apparently it made quite a bit to White, who obviously was motivated to produce a superior second run. He watched as 19-year-old rival Ayumu Hirano of Japan topped his earlier score with an extremely impressive 95.25. Then Scotty James of Australia, the two-time world champion, headed down the pipe and came out with a whopping score of 96.75.
Spurred on by the performances of his two young, competent rivals, White was a man on a mission during his second and final run. Proving that at age 31 he still has the skill and the drive, White produced a nearly flawless run, scoring a 98.50. He got three 99s and three 98s from the six judges.
Jamie Anderson overcame severe conditions to win gold in PyeongChang
Although he was assured of being one of the 12 qualifiers for Wednesday's finals (which will air Tuesday night on prime time TV), the competitive White was not going to play it safe.
"I started seeing everybody putting together these great runs and I figured I would just kind of step it up and it motivated me to send it on that last one," White said.
It's clear that White didn't enter the PyeongChang Olympics without proper motivation. After winning half-pipe gold medals in both Turin and Vancouver, he finished fourth and trudged home from the Sochi Olympics in 2014 without a medal.
"At the time I was burning out. It's hard to admit," White told reporters in South Korea.
White took a sabbatical for several years. His music became much more interesting and compelling than his snowboarding. But the itch to get back in his snowboarding gear and avenge his showing in Sochi has grown stronger. And now that the moment is here, White will clearly not be backing down from anyone.
In Pyeongchang, White will bid for a third gold medal against some rivals who are almost half his age. Judging by Tuesday's results, White still has plenty left in the tank.
The most recognizable snowboarder that history has known wants one more gold medal. Shaun White has a debt to settle.