Sierra-at-Tahoe ski resort has some unusual names for its many trails, some of them possessing historical significance.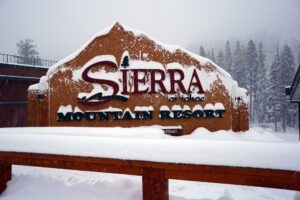 Located 12 miles from South Lake Tahoe off Highway 50, Sierra-at-Tahoe has a long history, dating back to 1946 when brothers Ray and Floyd Barrett started Sierra Ski Ranch.
In 1953, it was sold to Vern Sprock and owned by the Sprock family until 1996, when it was sold and became Sierra-at-Tahoe.
Among Tahoe's 14 ski resorts, Sierra-at-Tahoe is known as a medium-sized, family-friendly ski area that typically has a high annual snowfall. Note that heading into the New Year, Sierra had the most snow (160 inches) for the 2019-20 season.
Sierra's terrain is 25 percent beginner, 50 percent intermediate, and 25 percent advanced. It has 14 lifts, 47 trails, and 2,212 vertical feet, stretched out over 2,000 acres.
Ever head down a ski resort trail, check out the sign, and wonder how the heck the name evolved?
Below are some of the popular runs at Sierra-at-Tahoe and how they received their name.
DYNAMITE: Visiting Sierra-at-Tahoe in the summer it's hard not to notice the number of boulders and rocks. Thanks to a lack of dirt and an abundance of rock, quite a bit of explosives was used to create the Dynamite trail. A large amount of blasting was required, hence the appropriate name.
SUGAR N' SPICE: Where is everything nice? Sugar N' Spice, of course. It's a line from a popular nursery rhyme – "What are little boys made of." Anyone who has skid or snowboarded at Sierra knows the easiest way down the mountain from the top is Sugar N' Spice. It's typically a safe place to be for any level skier or rider.
BROADWAY, MAIN STREET: When visiting New York, one quickly realizes Broadway is one of the most central routes in the populated city. In a small town, Main Street is often the most traveled road and many other roads intersect with it.
So, Main Street and Broadway got their names due to their position on the Sierra-at-Tahoe mountain. Both of these trails can be viewed from the base mountain looking up to the summit.
PREACHER'S PASSION: A friend of Vern Sprock, Rev. Bruce Crawford was a Presbyterian preacher in Placerville who loved skiing. One of his favorite runs at Sierra-at-Tahoe was a steep slope that had its share of trees and boulders. The trail eventually was renamed – Preacher's Passion.
THE ALLEY: It was originally called Sunshine Alley because it had a sun-drenched Southern facing. The name changed to Snowboard Alley in 1994 when Sierra-at-Tahoe created its original snowboard park. Skiers eventually began to frequent the park and the name was shortened to The Alley.
EASTABOUT: This naming is fairly logical, based on location. In its early days, Sierra Ski Ranch built a run on its eastern-most trail, hence the name Eastabout.