Editor's note: The story below originally ran in 2008 when Kirkwood ski resort was celebrating its 35th anniversary. This past December, the venerable Tahoe resort had a 50th birthday party. Sadly, Kirkwood pioneer Dick Reuter passed away in 2011.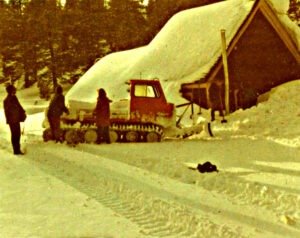 BY JEFFREY WEIDEL
In the unpredictable winter months that shroud this picturesque mountainous valley in seemingly a white layer of fresh paint, it can be a stressful drive to reach Kirkwood Mountain ski resort. And often times it can be even more harrowing trying to depart.
Logistical challenges have always been at the core of this ski resort, which is situated approximately 35 miles from South Lake Tahoe. Many years it gets bombarded with more than 600 inches of snow that tantalizingly coaxes skiers and snowboarders to make the somewhat risky journey to enjoy a glorious powder day on Kirkwood's challenging slopes.
In the past, many day visits to Kirkwood became extended stays when severe storms piled up snow so fast and so high that outbound roads quickly closed and stranded visitors wound up sleeping on the floor of the former aging ski lodge.
But that is part of the Kirkwood allure – it's always been more of a no-frills place when compared to many of Tahoe's more stylish, conveniently located resorts like Heavenly, Northstar and Squaw Valley (now Palisades Tahoe).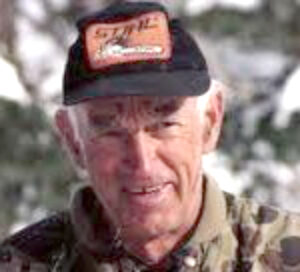 No need to remind the Reuter family about the rugged nature of Kirkwood, which celebrated its 35th birthday in early January (2008). A family of six that descended on Kirkwood back in 1972 when the resort's progress was measured in baby steps, the Reuters were the closest things to pioneers one could find.
"Kirkwood was a small, remote, rustic place and there was nothing to do but ski or sit in our cabin and read," recalls Carolyn Reuter-Cooper, one of the four Reuter children. "I was only 9 when we moved to Kirkwood. When we first got here, our family camped out at what would become the bottom of Chair 4 at the resort. We moved to Kirkwood from a home he built in Squaw Valley. I think we (the children) all cried. It was a hard lesson for a kid. You had to make your own fun."
While his children creatively searched for fun and his dutiful wife Jeanne served as bus driver and schoolteacher to a small group of kids, Dick Reuter was literally carving out ski runs on the steep, rugged Kirkwood terrain.
A chainsaw seemingly became an extension of his hand as Reuter cleared trees and brush to create the first four trails at Kirkwood, located on what is now the resort's backside.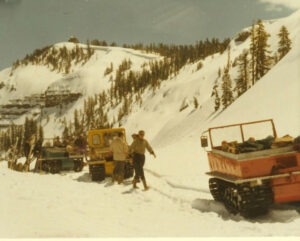 "I always say my husband wasn't happy unless he had sawdust in his pockets," laughs Jeanne Reuter, who at age 74 is 11 years younger than her husband, who retired in the early 1990s. "Dick went through a lot of chainsaws. A lot of them are still under our house."
There were many weeks when Dick Reuter worked sunup to sundown without a day off. An Army engineer during World War II who built air strips, working round the clock at Kirkwood was seemingly no big deal.
That's because this is one tough man, a guy who wound up creating most of the resort's trails and even has one named in his honor – Chair 11 at Kirkwood is still called "The Reut." Reuter also built and building and maintained the ski lifts and supervised the avalanche control with hand charges and a big gun.
"If you look up the word mountain man in the dictionary the picture next to it is Dick Reuter," said Tim Cohee, who was Kirkwood's CEO and general manager for 14 years before stepping down in 2007. "He physically built Kirkwood."
Of course, Reuter had help in those early years when Kirkwood was struggling to attract skiers to its remote location. One of those people was Dave Myers, who arrived at Kirkwood in 1973, one winter after the resort began running its lifts.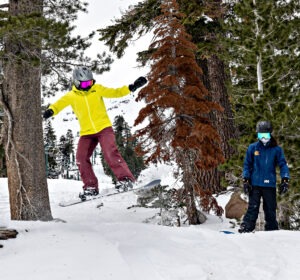 On a break from college one winter, Myers journeyed from Indiana to Lake Tahoe for some skiing with buddies. He was enamored so much with the beauty and majesty of Tahoe that he decided to return and has been at Kirkwood for 34 of the past 35 years.
Myers still recalls his first day on the job. With Reuter naturally in the lead, he and several other men breathlessly hiked through steep snow up the mountain and started cutting down trees and clearing a path for a ski run.
It was the first in a long succession of workdays for Myers, who has performed all kinds of duties over the years and is currently the vice president of mountain operations.
"Dick Reuter was a 'mountain man's mountain man'" said Myers, who eventually ran VP Operations for Kirkwood and worked with Reuter for over 30 years. "Dick was a real pioneer and tough as nails."
The snow is typically fantastic, which is why Kirkwood has always enjoyed not only loyal workers but also loyal customers.
The ski resort's epic snowstorms transformed the precipitous slopes into some of the best terrain that Tahoe resorts can offer. And even longtime employees like Myers rarely pass up the opportunity to make a few turns.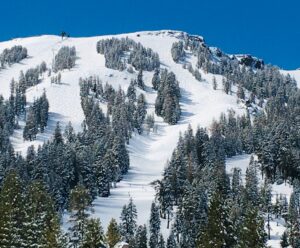 "I still get around pretty good and manage to ski just about every day. You've got to test the product," Myers said with a laugh.
Some of the locals may miss the old days, but progress was inevitable. Carolyn Reuter-Cooper lives in South Lake Tahoe, but has retained her Kirkwood roots, working as the resort's retail buying manager. She still sees her parents quite a bit, visiting the same home that housed the Reuters since 1973.
Although Jeanne Reuter believes life would have been a little easier living somewhere else in the Tahoe region, there will be no budging her husband, who she met in 1960 at Squaw Valley and married less than a year later.
"Dick says he's not moving anywhere. He says they will have to carry him out of here feet first," Jeanne says. "The truth is, we love it here."
Jeffrey Weidel owns the Tahoe Ski World website and has written professionally about Tahoe ski resorts for more than 30 years.