Following a delay due to unusually warm November weather, Heavenly Mountain ski resort in Lake Tahoe will open Wednesday (Nov. 27) for the 2019-20 season.
The opening of Heavenly Resort, which was originally set for Nov. 22, coincides with cold temperatures and snow that arrived Tuesday (Nov.26). Snow is in the forecast for the next two weeks.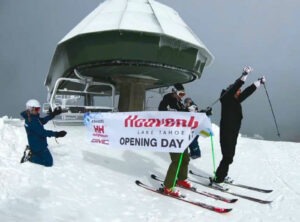 Over the next three days, the National Weather Service is forecasting snow of 8 to 18 inches at lake level, 1 to 2 feet above 7,000 feet, and localized amounts up to 3 feet.
That could mean powder conditions for skiers and snowboarders the first day of skiing at Heavenly – a rarity. Skiing Lake Tahoe over the Thanksgiving holiday could be epic.
"We are excited to start our season with great conditions and fun opening day celebrations," said Tom Fortune, general manager and vice president of Heavenly. "Our snowmaking teams have been working at every available opportunity to make snow and prepare our mountain for guests. We look forward to the upcoming forecast, and our teams will be working hard to continue to expand and open terrain as soon as we can safely do so."
What it also means is some hazardous driving conditions, starting Tuesday and lasting possibly throughout the Thanksgiving holidays. The National Weather Service says the worst driving conditions will be Tuesday through mid-day Wednesday. Blowing snow will further reduce visibility. Travel times could take two to three times longer and people can get confined to their vehicles for hours is a possibility.
The NWS suggests preparing for long delays and carry tire chains, an emergency kit with extra food, water and proper clothing.
"Anyone traveling during the Thanksgiving holiday week should anticipate chain control requirements over the Sierra passes and allow extra travel time to reach their destination," Caltrans spokesperson Steve Nelson told the South Lake Tribune. "We anticipate winter driving conditions with snow likely Tuesday and Wednesday and also a chance of snow on Thanksgiving. Motorists should always check conditions before they go, especially in the Sierra."
The Heavenly Village Gondola and Tamarack Express chairlift will begin operating at 9 a.m., providing access to beginner and intermediate skiing and snowboarding. Upper California Trail to Tamarack Return will be open via Tamarack Express, as well as the Bear Cave Carpet for beginner skiers and riders. Heavenly's Ski and Ride School will also be open for beginner lessons.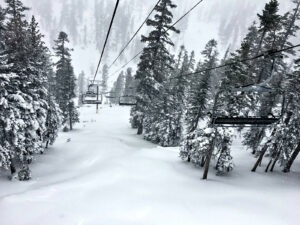 Heavenly will kick-off the early season with a lively opening day celebration. Skiers and snowboarders will receive complimentary donuts, hot chocolate and coffee in the morning at the Heavenly Village Gondola from 8-10 a.m. The annual Heavenly Opening Day Photo will be taken at noon at the top of the gondola. The photo opportunity will be followed by ski and snowboard giveaways.
A DJ and EMCEE will welcome guests at the base of the Heavenly Village Gondola, while Heavenly's DJ CAT and live music from the "Send-It Band" will provide the tunes from 9 a.m. to 1 p.m. at Tamarack Lodge. Details at www.SkiHeavenly.com.
TAHOE SKI RESORT OPENINGS: There are currently four Tahoe ski resorts that are open – Squaw Valley, Alpine Meadows, Mt. Rose, and Boreal Mountain.
NORTHSTAR, KIRKWOOD OPENINGS: Both Kirkwood Mountain and Northstar California are planning to open Friday, Nov. 29. Opening Day celebrations will give pass holders a chance to score burritos, swag and drop into their winter flow.
Early Season Conditions: Limited terrain and early season conditions exist. Heavenly, Northstar and Kirkwood require all skiers and riders to observe all posted signs and warnings. Closed trails may contain hazards due to limited natural snow coverage and snowmaking operations.
Vail Resorts Extends Pass Deadline to Dec. 2: With Tahoe resort openings this week, Vail Resorts is extending the pass purchase deadline to Dec. 2 to give pass holders more time to lock in their Epic Pass, Tahoe Local Pass, Tahoe Value Pass, new Epic Day Pass, or any products in the Epic Pass.
New for the 2019-20 season, Vail Resorts launched the Epic Day Pass allowing guests to ski world-class resorts for up to 50 percent off of lift ticket window prices. For as little as $95 per day of skiing at any of Vail Resorts' North American resorts, the Epic Day Pass is perfect for those skiers and riders who may not need the unlimited skiing offered by traditional season passes but want the same flexibility.
Skiers and riders can also lower their cost per day by adding more days. Guests can purchase season passes and start planning their next winter vacation today at www.epicpass.com.