Season passholders from Heavenly, Northstar and Kirkwood ski resorts in Lake Tahoe will receive credit for next season's pass due to the shortened season caused by the Coronavirus.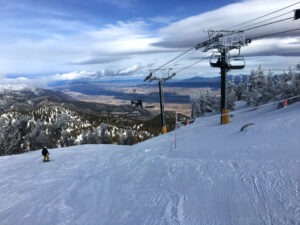 Vail Resorts, which operates Heavenly, Northstar and Kirkwood, announced Monday its plan to credit passholders toward next season's pass based on the number of days they were able to ski or snowboard during the 2019-20 season.
In a news release, Vail Resorts said passholders will be eligible for credits ranging from 20 percent to 80 percent of their value toward the purchase of a 2020-21 season pass of equal or greater value. Vail capped its credits at 80 percent because its ski resorts were open and operating for the majority of the season and our passes could be used during that time."
All passholders will receive a minimum credit of 20 percent. A maximum credit of 80 percent will be given to skiers and riders who purchased a season pass, but didn't use it for even a day. Vail Resorts said passholders who used their pass less than five days during the ski season will get somewhere between 20-80 percent credit.
Vail Resorts is eliminating its traditional spring purchase deadlines, extending it this year through Labor Day (Sept. 7, 2020) to use credit and to lock in 10 Buddy Tickets for next season. If uncertainty continues, Vail Resorts may reassess its deadline as the deadline date gets closer.
Heavenly, Kirkwood and Northstar all shut down in mid-March due to the coronavirus pandemic. Tahoe-area resorts started closing a few days before California Gov. Gavin Newsom issued a mandatory stay-at-home order that forced all non-essential businesses to close.
In addition to its three Tahoe ski resorts, Vail Resorts operates 12 mountain resorts and three urban ski areas, including Colorado, Utah, Canada and Australia.
"What became clear is that to address last season, a one-sized-fits-all approach would not work," said Kirsten Lynch, Vail Resorts' chief marketing officer. "That is why we are providing our season passholders credits based on the number of days they were able to use their pass."
Vail Resorts is anticipating a normal schedule for next ski season, but it will also expand its season pass protection benefits, including cash refunds, to all variations of its newly launched "Epic Coverage" system.
The coverage comes free with all season passes and completely replaces the need to purchase pass insurance, which can cost up to $60 for other passes. It provides refunds for those who suffer an eligible injury, job loss or other personal experience that prevents them from using their pass.
"Epic Coverage also provides a refund for certain resort closures, including for events like COVID-19, giving you a refund for any portion of the season that is lost," the news release stated.
In early April, Vail CEO Rob Katz in a letter to employees announced company-wide furloughs for at least one to two months, and that he was giving up his own salary for the next six months due to profit losses. Employees are furloughed without pay, but will keep their full health benefits, with the company paying all premiums.
Katz said the early closure will cost the company between $180 million to $200 million in lost profitability in its third quarter ending in April.