Lake Tahoe's Jamie Anderson – the reigning queen of women's slopeside competition – will be out to keep her crown Saturday night (Feb. 5) in the finals of Olympic women's slopestyle snowboarding.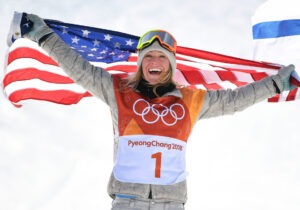 A two-time Olympic gold medalist snowboarder in slopestyle, Anderson did what needed to be done in Friday's qualifying round, taking fifth place with a top score of 74.35.
Prior to her runs, Anderson said she was "excited, nervous, emotional, ready to shred!"
After competing, she told her Instagram followers she was "so happy to make finals. This s— is more nerve-racking than any other event. Period."
According to the NBC Olympic TV schedule, Anderson will compete tonight (Feb. 5) in prime time for the gold medal in slopestyle, which is supposed to air starting at 5:30 pm.
Note that the time difference from California to Beijing is 16 hours, so Anderson will actually be competing in the finals Sunday in China.
The 31-year-old Anderson has won three Olympic medals – two of them gold. Her 19 Winter X Games medals are the most of any female and third overall behind Shaun White and Mark McMorris.
Team USA has three chances for a medal in the women's slopestyle snowboarding event.
Right behind Anders in sixth place was Julia Marino, with a best score of 71.78. American Hailey Langland also qualified, placing ninth (68.71).
In qualifying New Zealand's Zoi Sadowski Synnott had a top score of 86.75.
"Zoi is an amazing strong snowboarder all over," Anderson said. "It's been super fun to watch her grow up. It's been a little back and forth between us. I love it and I need that little fire under my ass to keep me working hard and keep me on my toes.
"For a long time in my career it was pretty easy to win, I didn't have to do too much. I didn't really have anyone pushing me. And now I am very much pushed by everyone – even the girls on this team."
Anderson is the defending gold medalist in the event, winning in Sochi in 2014 and again in PyeongChang in 2018.
The snow in at the Beijing Olympics is a little different than most competitions – it's man-made.
"It's been very firm," Anderson said. "I think the majority of it is artificial snow so it's not quite ideal, but I would say we are all making the most of it."