A series of storms over the next five days could dump 2-4 feet of new snow on Lake Tahoe ski resorts.
The first snow storm is expected to begin around 1 p.m. Saturday (Jan. 5) at Lake Tahoe ski resorts and continue into Sunday morning. Snow and rain are expected to continue into Wednesday.
According to Bryan Allegretto, OpenSnow California Snow Forecaster, the storms will not just be hitting the Lake Tahoe region. They will be impacting Northern California counties like Lassen all the way down to the eastern side of Southern California.
The heaviest precipitation from the first storm should be late Saturday afternoon and early evening, according to the National Weather Service (NWS). The heavy snowfall this evening will be accompanied by high winds.
Although there will be plenty of snow and powder days this week for skiing and snowboarding, note that high winds will likely persist throughout the five-day period and many Lake Tahoe ski resorts may be shutting down lifts as a safety precaution. The snow and high winds are not expected to subside by Thursday.
Lake Tahoe ski resorts that are more wind protected include Northstar California, Sierra-at-Tahoe, Homewood Mountain, Diamond Peak, and the lower mountain at Sugar Bowl and Alpine Meadows.
Allegretto says there will be three storm systems over the next five days. Click here to see a video of Allegretto discussing the storm systems with Kevin Cooper from Lake Tahoe TV.
According to Allegretto, Saturday's storm moves in during the afternoon and should bring heavy snowfall during the evening. He is predicting 5-15 inches of snow on the mountains by Sunday morning, including 3-9 inches at lake level. The bad news is mountaintop winds could be gusting up to 75-plus mph and possibly affecting lift operations.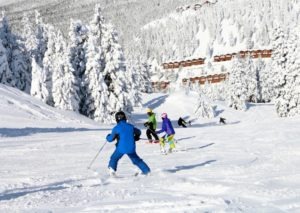 Allegretto says a second snow storm system will be moving in Sunday afternoon, bringing more heavy snowfall. The warmer weather will have snow levels rising to 6,500 feet on Monday. This second storm could bring an additional 6-22 inches of snow on the mountains by Monday evening, and 2-10 inches at lake level.
Following a break in the weather early Tuesday (Jan. 8), a third storm starts that evening and snowfall will be at lake level by Wednesday. Allegretto is predicting 2-14 inches of snow on the mountains, where strong winds should continue.
The snow and high winds are expected to subside by Thursday (Jan. 10), which could be a fantastic powder day for skiers and riders.
Allegretto says the next storm could move in around Jan. 13-14 with a drier pattern possible after that.
DRIVING/TRAVEL: The NWS warns that tire chains will likely be needed on Interstate 80 above 3,500 feet and is discouraging traveling Saturday (Jan. 5) due to hazardous conditions. There should be little lull in the rain and snow Sunday morning, a good window for traveling along I-80 or Highway 50 out of Lake Tahoe.
SIERRA SNOWPACK: The latest storm system comes at a good time. State water managers said Thursday (Jan. 3) that the Sierra snowpack is only 67 percent of average in this winter's first manual measurement. The snowpack supplies about 30 percent of the state's water needs, according to the Water Resources department.
California receives about two-thirds of its annual precipitation between December and March.