Following another day of heavy snow, the season totals keep climbing at Tahoe ski resorts.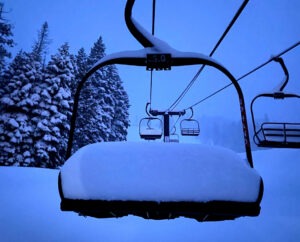 After several resorts received more than 2 feet of snow over a 24-hour period ending Sunday morning (Jan. 15), there were now seven Tahoe ski resorts with 300 inches or more of snow for the 2022-23 season. The totals are among the most at North American ski resorts.
CHECK OUT LATEST TAHOE SNOW REPORT BELOW
The storms this week continued pounding Tahoe ski resorts and naturally the season snow totals keep going higher and higher.
"Our year-to-date snow total has been above average all season, and this storm pushed our total to 340 inches, nearly twice our average year-to-date total for mid-January," Sugar Bowl said in an email.
Boreal has the most snow among Tahoe ski resorts with 351 inches. Not far behind is Sierra-at-Tahoe with 344 inches. The five other resorts with more than 300 inches are Kirkwood (341), Palisades Tahoe (341), Sugar Bowl (340), Northstar (315) and Mt. Rose (314). Heavenly is getting close to that mark with 285 inches.
Benefitting most from the recent day's snowfall were Sugar Bowl and Homewood, which both were reporting 25 inches of new snow by Sunday morning. Sierra received 24 inches, while Tahoe Donner and Palisades Tahoe each had 21 inches.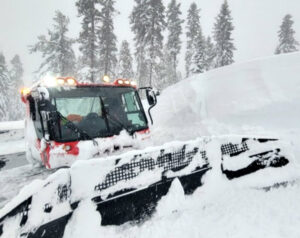 SNOWFALL LOOK BACK: Indeed, snow totals were seasonably high this past December when the white stuff came down hard roughly the final 10 days of 2022. Yet they couldn't match the record-setting December 2021 snow totals.
According to Cal-Berkeley's Central Sierra Snow Laboratory near Donner Pass, Tahoe received a record 193.7 inches – over 16 feet – of snow in December 2021, breaking the old record of 179 inches set back in 1970.
Despite the huge snow totals, no Tahoe ski resort had reached the 300-inch mark by the first week of January 2022. Boreal had the most snow among Tahoe ski resorts with 286 inches.
Mt. Rose had 275 inches by early January last year, which was more than 100 inches more than it was reporting in early January 2021, a major drought year for all Tahoe ski resorts. That season only one Tahoe ski resort (Palisades Tahoe) surpassed the 300-inch snow mark for the entire season.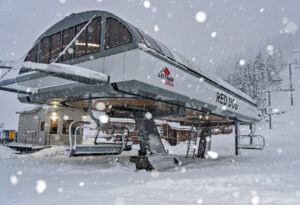 RED DOG LIFT OPENS: The new Red Dog lift was up and running Sunday at Palisades Tahoe. Why is that significant? Because the formerly slow lift at the base near the Funitel has been converted to a high-speed, six-seater that now travels a mere 5 minutes from the base to the summit.
"We are very proud of our team, which battled snow and wind to get the lift spinning and ready for today," said Palisades spokesperson Madison Condon.
The base of Red Dog had to be moved to make space for the new Base-to-Base Gondola this year that transports guests from Palisades Tahoe to the Alpine Meadows side of the resort. The delay in the Red Dog lift was due to late arriving parts and the storms that impacted construction.
WEATHER BREAK SUNDAY: It appears that Sunday will easily be the best day for skiing and riding during the MLK weekend.
The Palisades Tahoe website wrote that "we are between storms with a moist flow and lighter snow showers, or even scattered snow showers with some breaks Sunday. Ridgetop wind gusts could drop to 40-50 mph, which may mean little if any lifts are affected. We are only expecting around 1-3 inches of new snow during the day."
The break in the weather doesn't last long. Snow showers take place Sunday evening and by Monday morning there may be another 6 inches or more at many Tahoe ski resorts. The snow should become steadier early Monday as the next storm moves in and continues through the afternoon.
TAHOE SNOW REPORT (January 15)
Sugar Bowl: 25 inches
Homewood: 25 inches
Sierra-at-Tahoe: 24 inches
Palisades Tahoe: 21 inches
Tahoe Donner: 21 inches
Heavenly: 18 inches
Northstar: 17 inches
Granlibakken: 16 inches
Kirkwood: 15 inches
Mt. Rose: 12 inches
Diamond Peak: 11 inches
Boreal: 11 inches
Soda Springs: 11 inches