Due to warm temperatures and a lack of snow, one more Tahoe ski resort has decided to delay opening for the 2023-24 ski season.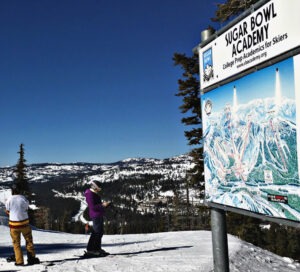 Sugar Bowl ski resort announced Friday that it would not be meeting its projected opening day of Nov. 24.
Earlier this week, both Heavenly and Northstar had a tentative opening date of Friday, Nov. 17 canceled, also due to some recent warm temperatures in the Tahoe region. A third Vail Resort in Tahoe – Kirkwood –is still scheduled to open Friday, Dec. 1, conditions permitting.
Sugar Bowl says it has received 10 inches of natural snowfall this fall and planned to begin snowmaking Nov. 1. However, warm temperatures and inversions have hampered snowmaking efforts.
"We had Friday, Nov. 24 circled on the calendar as our planned opening date for the 2023/24 ski and snowboard season," Sugar Bowl stated in a Friday press release. "We held onto hope as long as we could, but due to this stretch of mild weather and the current snowpack, we must delay the start of our winter season.
The delay means Sugar Bowl will not be open for the upcoming Thanksgiving holiday weekend. The resort, located off Interstate 80 at the Norden exit, has set a new opening date of Friday, Dec. 1, weather permitting. However, Tahoe weather can be fickle and Sugar Bowl says its snowmaking team is ready to flip the switch when weather conditions allow.
TAHOE SKI RESORTS – TENTATIVE OPENINGS
Mt. Rose: opened Nov. 10

Palisades Tahoe is still hoping to open for the season Wednesday (Nov. 23).

Boreal: opened Nov. 17
Palisades Tahoe: Nov. 22
Soda Springs: Nov. 24
Sugar Bowl: Dec. 1
Kirkwood: Dec. 1
Diamond Peak: Dec. 7
Granlibakken: Dec. 15
Northstar California: TBA
Heavenly: Nov. TBA
Sierra-at-Tahoe: TBA
Homewood: TBA
Tahoe Donner: TBA
THANKSGIVING SKIING: As of Saturday, there are two Tahoe ski resorts currently open – Mt. Rose and Boreal. Palisades Tahoe also plans to be open, sticking to its original opening-day plans of Wednesday, Nov. 22. On its website, Soda Springs still has Friday (Nov. 24) as its season opener.
On Friday (Nov. 17), Boreal began running its lifts, starting its 59th season of operation. For the second straight season, Mt. Rose was the first Tahoe ski resort to open for the season, running its lifts for the first time Nov. 10. Mammoth Mountain also opened for the season Nov. 10.