The only Tahoe ski resort still open, Squaw Valley will offer skiing and snowboarding through the Fourth of July weekend and has a closing date of Sunday, July 7.
Squaw Valley is open July 3-7 and just concluded $5 Fridays on June 28. Squaw offered $5 advance-purchase lift tickets every Friday in June with all proceeds benefitting the nonprofit Tahoe Fund. Squaw Valley Alpine Meadows committed to match skier contributions with an additional donation of $10,000.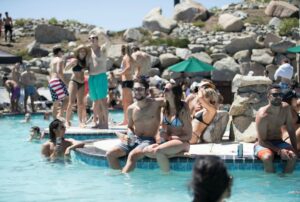 The program was a huge success, exceeding the goal and raised $40,000 to help Tahoe Fund and the Lake Tahoe Bicycle Coalition install up to 266 bike racks for businesses in the Tahoe Basin, encouraging locals and visitors to ride instead of drive.
Squaw Valley will hold Freedom Fest July 4-6 with High Camp Pool & Hot Tub parties, live music on the mountain and in The Village at Squaw Valley. Legendary DJ Paul Oakenfold will be performing July 5. Guests can find out more at www.Squawalpine.com.
Squaw Valley received 719 inches of snow for the 2018-19 season and has a current base of 95 inches. The Tahoe ski resort operated a seven day a week schedule until Memorial Day, then switched to Friday-Sunday operations until July 7.
Three other Tahoe ski resorts received more than 600 inches, while five resorts received 500 or more inches. Exceeding the 600-inch mark were Sugar Bowl (618), Homewood Mountain (606) and Northstar California (601).
Heavy winter storms broke records for snowfall this season. Extreme snowfall in February for the California/Nevada region was 213-percent above average.
"Record-breaking snow conditions paired with the hard work of our mountain operations teams have made for a truly unforgettable season," Mike Goar, vice president and chief operating officer of Vail Resorts said in late February. "We offered skiers and riders additional opportunities to take advantage of these amazing spring (and summer) conditions across the region."
It should come as no surprise that Tahoe ski resorts saw a 17-percent increase in snow visits for the 2019-19 ski season.
California and Nevada ski resorts had 7.3 million visits this season, according to preliminary figures released by the National Ski Areas Association and the California Ski Industry Association. That equates to a 17-percent from last year, and 11-percent above the 10-year average. The number of visits were up year-over-year every month from October through March.
Nationwide, this year's totals were the fourth-biggest season on record, with 59.1 million visitors to ski resorts.
More snow means California and Nevada resorts were able to open on time and stay open later. On average, resorts in the region stayed open for 145 days, the most since 2010-2011 and 16 days longer than last year's average.