It should come as no surprise that Tahoe ski resorts saw a 17-percent increase in snow visits for the 2019-19 ski season.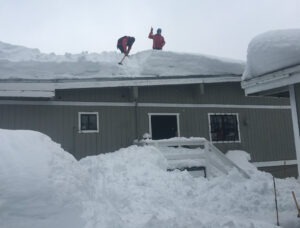 California and Nevada ski resorts had 7.3 million visits this season, according to preliminary figures released by the National Ski Areas Association and the California Ski Industry Association. That equates to a 17-percent from last year, and 11-percent above the 10-year average. The number of visits were up year-over-year every month from October through March.
The results are preliminary because two California resorts – Squaw Valley, Mammoth Mountain – remain open. The figures are estimated based on likely turnout for the remainder of the season.
More than half the resorts in the region stayed open later than expected. Seven of the 14 Tahoe ski resorts concluded the season on Easter Sunday, April 21. Five Tahoe ski resorts stayed open, the latest being Squaw Valley through July 7. Both Alpine Meadows and Heavenly Mountain remained open weekends in May, but are now closed.
Annually the latest Tahoe ski resort to remain open, Squaw Valley has that distinction again this season and also has the most snow with 682 inches as of May 14. Amazingly, Squaw Valley had 300 inches of snow in February and exceeded the 600 mark by early March.
"Squaw Valley has 50-plus feet of snow so far this season, it's a benchmark for us," said Squaw Valley spokesperson Alex Spychalsky in early March.
Three other Tahoe ski resorts received more than 600 inches, while five resorts received 500 or more inches. Joining Squaw Valley in the 600-inch club are Sugar Bowl (618), Homewood Mountain (606) and Northstar California (601). Between 5-10 inches of new snow is expected this week.
Heavy winter storms broke records for snowfall. Extreme snowfall in February for the California/Nevada region was 213-percent above average.
"Record-breaking snow conditions paired with the hard work of our mountain operations teams have made for a truly unforgettable season so far," Mike Goar, vice president and chief operating officer of Vail Resorts said in late February. "We are offering skiers and riders additional opportunities to take advantage of these amazing spring conditions across the region."
Nationwide, this year's totals were the fourth-biggest season on record, with 59.1 million visitors to ski resorts.
More snow means California and Nevada resorts were able to open on time and stay open later. On average, resorts in the region stayed open for 145 days, the most since 2010-2011 and 16 days longer than last year's average.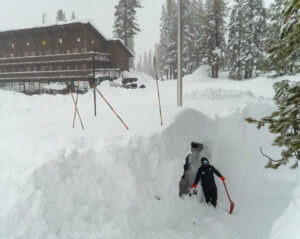 SNOW TOTALS TAHOE SKI RESORTS (as of May 14)
Squaw Valley: 682 inches
Sugar Bowl: 623 inches
Homewood Mountain: 610 inches
Northstar California: 601 inches
Boreal Mountain: 586 inches
Kirkwood Mountain: 581 inches
Alpine Meadows: 569 inches
Soda Springs: 542 inches
Sierra-at-Tahoe: 534 inches
Heavenly Mountain: 486 inches
Rose: 456 inches
Diamond Peak: 448 inches
Tahoe Donner: NA
Granlibakken: NA