A series of storms has pushed Squaw Valley's snow total to 51 feet.
Squaw Valley not only has the largest snow total among Tahoe ski resorts for the 2018-19 season, its 616 inches as of Friday (March 8) is the second most among ski resorts in North America.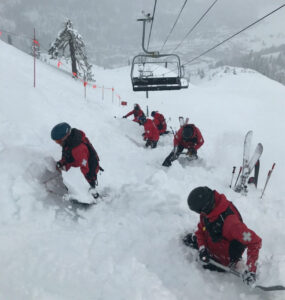 Mammoth Mountain, located south of Lake Tahoe along the eastern portion of California, has the largest snowfall total this season with 628 inches.
Squaw Valley reported 20 inches one day earlier this week and has 44 inches of snowfall over the past week, bringing its season total to 616, which is more than 200 inches than the mountain received last season. Alpine Meadows has received 35 inches over the past week, raising the resort's season total to 517 inches.
Thanks to the abundance of snow, Squaw Valley Alpine Meadows announced that Squaw Valley will remain open until July 7, conditions permitting. Alpine Meadows will operate into May, according to the resort, with a schedule dependent upon weather.
February was a crazy month for snow in Lake Tahoe with many ski resorts establishing new records for overall snowfall. Squaw Valley led the way among Tahoe ski resorts with 300 inches, breaking a record for most snowfall during any month in resort history.
Skiing Lake Tahoe or snowboarding Lake Tahoe has never been better. There are seven Tahoe ski resorts that have reached or surpassed the 500-inch mark this season. Joining Squaw Valley Alpine Meadows in the 500-inch club are Homewood Mountain (563), Sugar Bowl (561), Northstar California (549), Boreal Mountain (539), and Kirkwood Mountain (526).
Earlier this week, Diamond Peak ski resort announced it would extend its season a week – running lifts until April 21. Homewood Mountain also announced that it will push back its close date by two weeks to April 21.
In late February, all three Vail Resorts in the Lake Tahoe region – Heavenly Mountain, Northstar California, Kirkwood Mountain – announced they would stay open due to the excessive amount of snow that has been piled up since the beginning of February.
Closing Time
Heavenly Mountain: The South Lake Tahoe resort plans to extend the season through April 28, with a bonus 3-day-weekend May 3-5.
Northstar California: Located off Highway 267 in Truckee, Northstar plans to extend the season through April 21.
Kirkwood Mountain: The resort off Highway 88 will extend the season through April 14 with a bonus 3-day-weekend April 19-21.