Snow has continued to fall this week at Tahoe ski resorts, where Sugar Bowl set a new snowfall record that had been in existence for 26 years.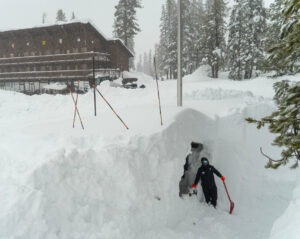 Perched on Donner Summit in the Northern Sierra along Interstate 80, Sugar Bowl has received 267 inches of snow so far this month, beating its previous snowfall record of 263 inches in February 1993. Season-to-date (Feb. 27), Sugar Bowl has received 502 inches of snow.
The resort is open daily as weather, conditions and road conditions permit, from 9 a.m. to 4 p.m. Snow depths at Sugar Bowl range from 132 inches at the base, to 200 inches at the summit.
"This month has literally been one for the record books. We're on track to exceed our annual average snowfall (for the season)," said Jon Slaughter, director of marketing and sales at Sugar Bowl. "The forecast continues to be strong as we head into March, and we're stoked that for much of this season we've been able to offer our guests powder day after powder day. This is the type of season that dreams are made of."
For people interested in skiing Lake Tahoe this season, Sugar Bowl has an intro to skiing package for $75. There are also available discounts for experienced skiers and snowboarders.
Tickets purchased at least two days in advance will save up to 50-percent off the daily rate on single day or consecutive day lift tickets. In addition, Sugar Bowl season passes will go on sale March 18, offering access to the resort for the rest of this season and all of the 2019-20 season.
Squaw Valley establishes new record: No Tahoe ski resort has recorded more snow this month than Squaw Valley. The famed Olympic ski resort got another 20 inches Wednesday morning (Feb. 27) to reach the 300-inch mark for snowfall in February.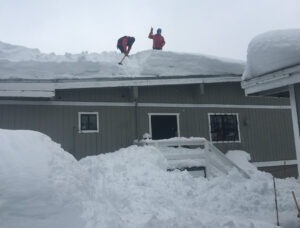 "We have smashed our previous February record by over 100 inches, and we have also blown away our previous month snowfall record from January 2017 by 18 inches," said Squaw Valley spokesperson Alex Spychalsky. "And there's still the possibility for a bit more snow before the month is out."
Squaw Valley has received 557 inches of snow thus far this season, or more than 46 feet. Last week Squaw Valley had the second most snow among North American ski resorts, creating quite a winter playground for skiing and snowboarding Lake Tahoe
Avalanche concerns: The current storm came in warmer, and therefore wetter than storms earlier this month. The snow is heavy and the snow levels are currently fluctuating, contributing to mixed conditions of rain and wet snow at the base.
These conditions can create high avalanche danger, which impacts ski resort operations in the mornings as crews work to dig out lifts, cut new access roads and conduct avalanche control.
Road conditions: I-80 and Mt. Rose Highway (State Route 431) were closed for much of Wednesday due to extreme conditions. State Route 88, which accesses Kirkwood Mountain, was also closed. However, Highway 50 leading into South Lake Tahoe has been open.