Thanks to a record-setting month of snowfall, Diamond Peak ski resort in Lake Tahoe announced it has extended its season to April 21.
Originally scheduled to close on Sunday, April 14, Diamond Peak General Manager Mike Bandelin said that conditions for skiing and snowboarding Lake Tahoe are just too good to close the family-friendly resort in Incline Village that early.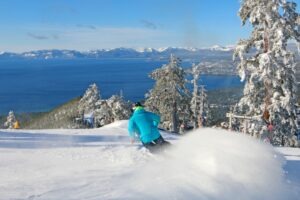 "We've had big winter storms this year, so the snowpack is in great shape and the spring skiing is going to be really fun," Bandelin said. "So, rather than wait and announce the extension at the last minute, this year we wanted to give our pass holders and customers more of a heads up so they can plan their spring trips to the mountain."
Season passes: In related news, Diamond Peak season passes for the 2019-20 ski season will go on sale Friday, March 15 at early-bird rates. All 2019-20 passes include spring access for the remainder of the newly extended ski season.
"Our staff works hard to ensure that our season passes come loaded with as many bonus perks as possible each year, including spring access for the rest of this season," Bandelin said.
Diamond Peak's early-bird season pass sale will run from March 15 through April 30, 2019, with the best prices on both unrestricted and mid-week passes. During the spring sale, unrestricted adult season passes will cost just $399 ($289 for IVGID Picture Pass Holders).
Unrestricted senior passes, ages 65-69, will cost just $159 ($109 for IVGID Picture Pass Holders), while youth ages 13-23 can buy unrestricted passes for just $229 ($139 for IVGID Picture Pass Holders).
Bonus perks for pass holders include four discounted Bring-A-Friend Ticket Vouchers, valid for $30 off the Adult window rate for lift tickets during the 2019-20 ski season, and four complimentary bonus days at partner resorts across the West, including Bogus Basin in Idaho and others to be determined.
Every Diamond Peak season pass comes with the resort's Peak Pledge – a promise of a full refund of the pass purchase price (minus a $25 processing fee) for refunds requested by January 15, 2020 on unused 2019-20 season passes – no insurance or doctor's note needed. Passholders just need to visit Guest Services by January 15, 2020 to request a refund.
Diamond Peak offers an unrestricted pass valid every day with no blackout dates, and a midweek pass valid Monday through Friday and void during holiday periods – Dec. 21, 2019 to Jan. 5, 2020; Jan. 17-20, 2020; Feb, 14-23, 2020. The midweek pass is valid seven days a week, starting in March 2020.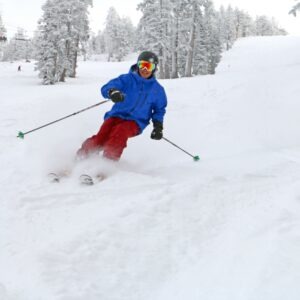 The 2019-20 Diamond Peak season passes will be for sale online at www.diamondpeak.com at the resort's Guest Services office during the remainder of the 2018-19 ski season, or by phone 775 832-1253 starting March 15. Visit the website for more information.
In late February, All three Vail Resorts in the Lake Tahoe region – Heavenly Mountain, Northstar California, Kirkwood Mountain – announced they would stay open due to the excessive amount of snow that has been piled up all February.
Closing Time
Heavenly Mountain: The South Lake Tahoe resort plans to extend the season through April 28, with a bonus 3-day-weekend May 3-5.
Northstar California: Located off Highway 267 in Truckee, Northstar plans to extend the season through April 21.
Kirkwood Mountain: The resort off Highway 88 will extend the season through April 14 with a bonus 3-day-weekend April 19-21.