Squaw Valley ski resort in Lake Tahoe remains open and is currently offering arguably its best spring snow conditions in decades.
Squaw Valley received another 5 inches of snow Monday night, bringing its snow total this week to nearly 2 feet. The Tahoe ski resort has received 710 inches of snow this season (58-plus feet), and has a 15-foot base depth for skiing and riding operations into the summer. It is snowing today at Squaw and more snow is expected throughout the week.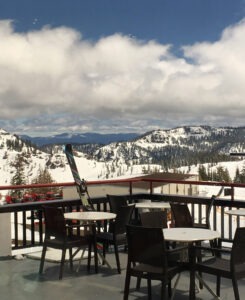 Squaw Valley remains open through July 7. It is operating a seven day a week schedule until Memorial Day, at which time it will switch to Friday-Sunday operations until the Fourth of July weekend. The resort plans to be open for skiing and riding from July 3-7, weather and conditions permitting. Sunday (May 19) marked the last day of operations for Alpine Meadows for the 2018-19 season.
This surprising onslaught of snow also has Squaw extending operations for the KT-22 lift. The famed KT-22 (which was slated to close Monday) will now stay open all Memorial Day weekend and close, Monday, May 27, weather and conditions permitting.
One other Tahoe ski resort also remains open. Heavenly Mountain has received a foot of new snow over the past week and has extended its ski season through May 27. It is currently open Friday through Sundays from 9 am to 4 pm via the Gondola.
Gold Coast Beach Bar: Every weekend through Memorial Day, the new Gold Coast Beach Bar at Squaw Valley's upper mountain will be the place to kick back with a cold drink on the snow beach. Grooming machines will lay down flat corduroy outside Gold Coast, one of Squaw Valley's largest lodges and right in the heart of the action.
High Camp Hot Tub: The giant jacuzzi tub at High Camp resides at 8,200 feet. The tub-side Umbrella Bar serves cold beers and cocktails and offers spectacular views of Lake Tahoe and the surrounding Sierra Nevada mountains. If not a skier or rider, the scenic Aerial Tram in the Village at Squaw Valley takes sightseers straight to High Camp.
It should come as no surprise that Tahoe ski resorts saw a 17-percent increase in snow visits for the 2019-19 ski season.
California and Nevada ski resorts had 7.3 million visits this season, according to preliminary figures released by the National Ski Areas Association and the California Ski Industry Association. That equates to a 17-percent from last year, and 11-percent above the 10-year average. The number of visits were up year-over-year every month from October through March.
The results are preliminary because two Tahoe ski resorts – Squaw Valley, Heavenly – remain open. The figures are estimated based on likely turnout for the remainder of the season.
Nationwide, this year's totals were the fourth-biggest season on record, with 59.1 million visitors to ski resorts.
More snow means California and Nevada resorts were able to open on time and stay open later. On average, resorts in the region stayed open for 145 days, the most since 2010-2011 and 16 days longer than last year's average.