There were plenty of happy young snowboarders earlier this week when the new Burton Riglet Parks made their debut at Squaw Valley Alpine Meadows.
Little shredders got their first turns in at the Riglet Park in the Squaw Kids designated learning area. The park at the Alpine Kids learning area will open as soon as conditions allow. The Riglet Parks are available to kids ages 3-7 in Ski & Snowboard School Programs.
These playground-style learning parks at Squaw Valley Alpine Meadows make a kid's experience more interactive and fun. By utilizing terrain-based features, easy-to-use Burton Learn To Ride equipment, and learning tools like the Burton Handle Bar and Riglet Reel, kids get the ultimate learn to snowboard experience.
The instructors at Squaw Valley Alpine Meadows will have more tools, terrain and the ability to use guided discovery and play to welcome new generations to the sport.
The Burton Riglet Parks are available for kids snowsports lessons for ages three through seven. The Burton Riglet program has been successfully integrated at several other premiere resorts around the world.
According to Burton, in 1996 only 14 percent of snowboarders were kids. In 2018, that number has now hiked to 25 percent, so resorts are naturally catering to these young snowboarding families and the next generation of snowboarders.
"We have worked with Squaw Valley Alpine Meadows for the last two years to bring our indoor Burton Riglet Physical Education program to local kids in need. I'm excited to be expanding our partnership this season," said Jeff Boliba, vice president global resorts at Burton. "Now we are opening up an on-snow program that will be included in the Squaw Kids and Alpine Kids lessons. The location of the Riglet Park so close to the magic carpet and children's center will allow these kids to progress faster."
Burton Riglet Park video: https://tinyurl.com/ybwrqjzs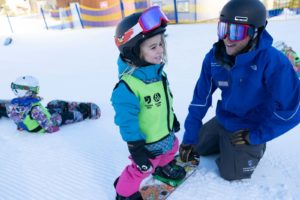 The Squaw Valley Riglet Park is located in the learning area behind the Squaw Kids building. At Alpine Meadows, the Burton Riglet Park is located in the kids learning area immediately adjacent to the Alpine Meadows Main Lodge.
"We have been continuously building and improving our programs over the years, and adding the Riglet Park to our beginner area is icing on the cake," said Tyler King, Squaw Kids snowboard supervisor. "The growing trend of 3- and 4-year-olds learning to snowboard is industry-wide and we are excited to be a part of it."
Squaw Valley Alpine Meadows will also be embracing the demand for snowboard instruction for kids under 5 with a new "Rivets" group lesson for snowboarders ages 3-4. The new Rivets lessons will complement the existing Grommets snowboard lessons for ages 5-7.
For more information, visit the Squaw Valley Alpine Meadows website at www.squawalpine.com or call 800 403-0206.