Squaw Valley Alpine Meadows is making the necessary adjustments in a season when the snow is not plentiful.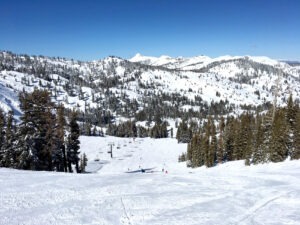 Squaw Valley has received the most snow among Tahoe ski resorts with 207 inches and Alpine Meadows has 198 inches for the 2019-20 ski season (SEE SNOW TOTALS BELOW).
However, that total is far from its average and pales in comparison to a year ago when Squaw Valley received 313 inches in what was nicknamed "Februburied." Squaw received the most February snow in resort history.
However, officials at Squaw Valley Alpine Meadows are making no apologies for what many skiers and snowboarders might misjudge as poor conditions.
"We've got a base depth of more than 7 feet on the upper mountains, and of about 3 to 3½ feet at the bases of Squaw and Alpine," said resort spokesperson Alex Spychalsky. "Since temperatures are staying low overnight, we are in that classic spring melt-freeze cycle, so first runs of the day are best taken on groomers. But once the snow starts to warm up under the sun, the corn skiing has been great."
To the dismay of skiers and riders, there has been just one legitimate powder day in 2020 and tree skiing is a bit of a gamble because it's typically slick. But the majority of chair lifts are running and groomers have provided some solid skiing and riding for the past two months as Tahoe ski resorts head toward March.
Squaw Valley Alpine Meadows says skiers and riders are frequenting its mountains and weekends are still drawing big crowds. There have been multiple Tahoe bluebird days to enjoy where the sun is out and conditions are more spring-like that most February days in the past.
"We've still seen strong visitation the last few weeks, despite not receiving snowfall," Spychalsky said. "For many, there's nothing better than skiing under the sun, and it makes a great atmosphere for kicking back at après on one of our many sun decks."
To compensate for the lack of snow, Squaw-Alpine has been making snow in February and says it will continue to make snow into March.
"We have been making some snow this month in select areas. Since the temperatures have been staying low at night, we've had the ability to blow snow in high-traffic areas that lose the snow depth a little quicker,"  Spychalsky said. "Most of our efforts have been focused in the base areas and around lodges, but it's great to have the ability to be adaptable and adjust where needed."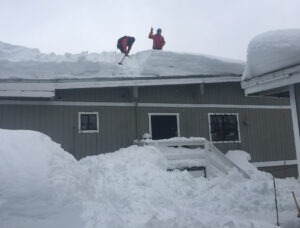 Unless Tahoe ski resorts experience a Miracle March, it's unlikely Squaw will be offering skiing and riding into July. Last season its closing date was July 7. But Squaw and many other Tahoe ski resorts say they won't be closing early.
"We pride ourselves on providing the longest ski season in Tahoe, and we will be committed to making that happen again this year," Spychalsky said. "We plan to stay open for as long as conditions allow. On this date in 2018, we had only received about 11 feet of snow (130 inches) – 6 feet less than where we're at now. That season, we had a "Miracle March" with a significant amount of snowfall, and we were able to stay open until Memorial Day. So, there's still plenty of opportunity for snowfall this season."
SNOW REPORT (season totals, Feb. 22)
Squaw Valley: 207 inches
Sierra-at-Tahoe: 204 inches
Alpine Meadows: 198 inches
Northstar California: 197 inches
Boreal Mountain: 196 inches
Sugar Bowl: 194 inches
Kirkwood Mountain: 192 inches
Soda Springs: 192 inches
Heavenly Mountain: 183 inches
Mt. Rose: 178 inches
Homewood Mountain: 166 inches
Diamond Peak: 113 inches
Tahoe Donner: 111