It's snowing again Saturday (Dec. 1) in Tahoe, where Lake Tahoe ski resorts are busy trying to open new terrain and keep track of the rising snow totals.
After having no snow less than two weeks ago, all of a sudden Lake Tahoe ski resorts have some impressive early-season snow totals. Kirkwood Mountain is reporting the most snow, accumulating 68 inches. Squaw Valley Alpine Meadows has 58 inches, Sierra-at-Tahoe has 48 and Boreal Mountain is reporting 47.
It snowed lightly throughout most of the Lake Tahoe region Friday night and the snow is expected to conclude Saturday by early afternoon. High winds are an issue at multiple resorts. However, the weather is supposed to be mostly sunny on Sunday and partly cloudy Monday. More snow is expected Tuesday through Thursday of next week.
Squaw Valley Alpine Meadows reported Dec. 1 that a foot of snow had fallen at its upper elevations the past 48 hours.
"We are now at 2½ feet of accumulation since the most recent series of storms kicked off on Wednesday," said Squaw-Alpine spokesperson Liesl Hepburn.
Squaw opened more terrain at both mountains Friday. At Squaw Valley, the Red Dog, Squaw Creek, Shirley Lake, Mountain Meadow and Bailey's Beach lifts are now operating. The Roundhouse lift is running at Alpine Meadows. Combined, the two resorts have 15 lifts going with access to beginner up to high intermediate terrain.
There are currently nine Lake Tahoe ski resorts open for the 2018-19 season.
Sugar Bowl ski resort opened for the season Friday with five lifts and 23 trails. Sierra-at-Tahoe also began running its lifts for the first time Friday, and is reporting four lifts and 14 runs open. Northstar California has been open for more than two weeks and has eight lifts and 30 trails available.
Tahoe Donner is scheduled to open Dec. 7, Diamond Peak has plans for a Dec. 13 opening and Granlibakken opens Dec. 14. Homewood Mountain is expected to announce an opening date soon.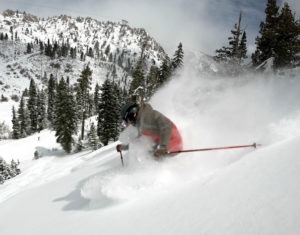 The National Weather Service expects another storm to arrive Tuesday (Dec. 4) and continue into Thursday. And this very active storm pattern may continue through the second week of December.
SNOW REPORT
(24-hour & season snow totals)
Boreal Mountain: 8 inches; 47 season totals
Diamond Peak: 2 inches; 22 season totals
Heavenly Mountain: 0 inches; 39 season totals
Granlibakken: 6 inches; 8 season totals
Homewood Mountain: 3 inches; 35 season totals
Kirkwood Mountain: 1 inch; 68 season totals
Mt. Rose: 8 inches; 41 season totals
Northstar California: 1 inch; 33 season totals
Sierra-at-Tahoe: 1 inch; 48 season totals
Soda Springs: 8 inches; 47 season totals
Squaw Valley Alpine Meadows: 3 inches; 58 season totals
Sugar Bowl: 6 inches; 49 season totals
Tahoe Donner: 0 inches, 8 season totals