Snow returned to Tahoe ski resorts Saturday evening, dropping a foot or more of fresh powder at three resorts by Sunday morning.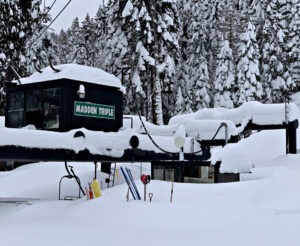 The Tahoe region had been mostly devoid of snow following a series of major storms for more than three weeks. The last major snowfall prior to the one this weekend took place on Jan. 18.
CHECK OUT TAHOE SNOW REPORT BELOW
Homewood ski resort on Tahoe's west shore recorded the most snow, reporting 14 inches by Sunday morning (Feb. 5). Both Mt. Rose and Heavenly received a foot of snow. Northstar California and Palisades Tahoe got 10 inches of new snow and Sugar Bowl had 9.
MORE SNOW SUNDAY: Snow is expected to continue falling all day Sunday, continuing through Sunday afternoon before winding down by evening. Due to the snow and strong winds, skiing and snowboarding will be challenging throughout Sunday.
"The wind likely will not be our friend today, and lift operations may be affected. Be ready for a storm day," a Sugar Bowl blog stated Sunday morning. "Take it easy getting here, use low light lenses, wear a beacon if you have one, ride with a buddy, and don't expect everything to go as planned."
The National Weather Service (NWS) in Reno has issued a winter storm advisory for Sunday. An avalanche warning is in place through Sunday evening. Avalanche danger is high until Monday morning.
"A winter storm with strong winds, high-intensity snowfall, and heavy new snow accumulation may result in widespread avalanche activity in the mountains. Large avalanches could occur in a variety of areas," an NWS warning states.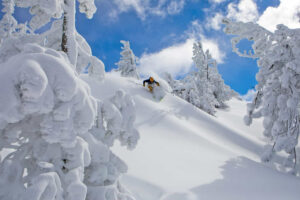 A Palisades Tahoe blog noted that "ridgetop winds from the west will be gusting up to 60-70 mph early Sunday morning and then dropping through the day. That could delay some upper mountain lift openings."
Following Sunday's storm, Monday through Friday will likely be sunny skies and good ski conditions at Tahoe ski resorts.
SEASON SNOW TOTALS: The numbers keep nearing 400 inches for many Tahoe ski resorts, a figure that no resort reached a year ago.
Kirkwood ski resort off Highway 88 has the most snow among Tahoe ski resorts with 388 inches. A close second is Sierra-at-Tahoe with 385 inches. Other notable totals include Palisades Tahoe (380), Sugar Bowl (371), Boreal (363), Mt. Rose (357), Northstar (351), Heavenly (340), Soda Springs (338), and Homewood (332).
TAHOE SNOW REPORT (Feb. 5)
Homewood: 14 inches
Mt. Rose: 12 inches
Heavenly: 12 inches
Northstar: 10 inches
Palisades Tahoe: 10 inches
Sugar Bowl: 9 inches
Kirkwood: 8 inches
Tahoe Donner: 7 inches
Sierra-at-Tahoe: 5 inches
Diamond Peak: 4 inches
Boreal: 2 inches
Soda Springs: 2 inches
Granlibakken: NA