The next several days provide a chance to ski and hangout with an Olympic champion – Jonny Moseley.
Mosley will be skiing and mingling with guests at Squaw Valley on Dec. 26-28. He will be at Alpine Meadows Dec. 29-30. For more information on dates and times to ski or interact with Moseley, click here.
A freestyle skiing gold medal winner in the 1998 Winter Olympics in Nagano, Japan, Moseley has always called Squaw Valley his home mountain.
Spending the holidays at Squaw Valley is special for Jonny Moseley and his family. Winter weekends in his youth were spent at Squaw, honing his skills for what would eventually become Olympic fame.
"Jonny is approachable and engaging with our guests, from helping out at the rental shops to skiing with our guests, media and special groups," Squaw Valley Alpine Meadows said in a press release several years ago. "We are very fortunate to have partnered with such an incredibly esteemed, genuine and charismatic representative."
Although his competitive skiing days are long gone, the 44-year-old Moseley still keeps a close association with Squaw, a tie that goes back more than three decades and includes plenty of time in the cabin that his parents purchased long ago.
Moseley was born in San Juan, Puerto Rico, but it's not a stretch to suggest that he "grew up" at Squaw. He began skiing there at age 3 in the Mighty Mites program and progressed so rapidly that Moseley won his first ski race two years later. By age 7, he was a member of Squaw's freestyle ski team.
A daring young skier, Moseley became master of the moguls and proved it to the world by performing his signature 360 Mute Grab and capturing the gold medal in the 1998 Winter Olympics.
Moseley can reflect on his decorated ski career, yet he prefers living in the present. Jonny and Malia Moseley's two boys (9, 12) learned to ski in the same Mighty Mites program as their dad.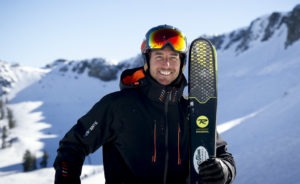 "It's kind of funny; they are carrying on the tradition. It's great. We are very lucky," Jonny said.
CHRISTMAS SNOW TOTALS
Boreal Mountain: 10 inches
Diamond Peak: 13 inches
Heavenly Mountain: 9 inches
Granlibakken: 4 inches
Homewood Mountain: 7 inches
Kirkwood Mountain: 7 inches
Mt. Rose: 11 inches
Northstar California: 13 inches
Sierra-at-Tahoe: 7 inches
Soda Springs: 10 inches
Squaw Valley Alpine Meadows: 10-11 inches
Sugar Bowl: 10 inches
Tahoe Donner: 6 inches