Kelsey Angelotta was searching for her missing brother Saturday (Jan. 8) when she was given the news that his body had been found, two weeks after he went missing at Northstar California ski resort.
The Placer County Sheriff's Office issued a news release Saturday that said the 43-year-old skier's dead body was discovered by the Tahoe Nordic Search and Rescue team near a residential neighborhood that was roughly 3 miles from the boundaries of Northstar ski resort.
Rory Angelotta was located approximately a half mile from a residential neighborhood near Schaffer Mill Creek.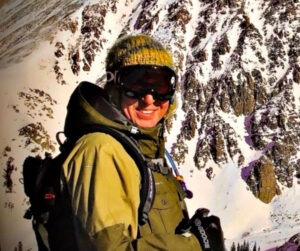 Kelsey, who lives in Colorado, traveled to Truckee and spent the past 12 days looking for Rory. She wrote this comment below on her Facebook page.
"My brother Rory has been FOUND. It seems as if he got lost in whiteout conditions along the backside (of Northstar) and tried hiking his way out in several feet of snow," stated the Facebook post.
"He was found very, very far away from the mountain, hunkered down, with his skis laid out in front of him, and his hands over his heart. I was able to carry his skis down the mountain with me today."
Both Saturday search teams, with assistance from a rescue canine from the California Rescue Dog Association, were conducting a Saturday search for Angelotta, who went missing from Northstar ski resort on Christmas day after heading up the mountain late that morning.
In an Instagram post shortly before the body was found, Kelsey said she had spent 11 days "lapping this entire resort" looking for her brother.
"All I can hope for is he had the best powder run of his life before he left us. He rarely left me without saying 'go fast, take chances!'" she wrote. "And sadly, I always knew this is how he might go. Doing the one thing we both love.  And that's how I'll always remember him. Skiing with me side-by-side, souls of a kind, with the biggest smile on his face."
An extensive search took place for six days in extreme conditions. There were no signs of Angelotta and search efforts were suspended December 30 when officials concluded that the Truckee resident was no longer alive.
Officials believe Angelotta had gotten lost during the Christmas whiteout conditions and traveled a considerable distance from the ski resort boundaries and the backside of the resort.
It is possible Angelotta was attempting to find the neighborhood near Truckee when he succumbed to the elements.
Due to the considerable distance Angelotta had traveled from the resort, it was not included in the original emergency search efforts. The search efforts were primarily inside the boundaries of Northstar ski resort.
Officials say there was no indication of any suspicious or unusual activity.
The Angelotta family issued a statement through the Sheriff's office, thanking the many searchers.
"The Angelotta family is deeply touched by the overwhelming outpouring of prayers and support during this extremely difficult time and personally wants to thank everyone that accompanied in the search and assisted them during these last two weeks," the statement read.