As the days continued to mount, the outcome seemed inevitable – missing skier Rory Angelotta would not be found alive at Northstar ski resort.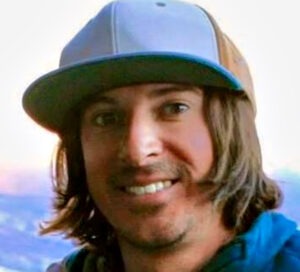 Angelotta has not been located yet and hopes that he somehow survived in the the brutal conditions the past six days have vanished.
The stark reality led search officials to conclude that any additional searches at Northstar will now be considered recovery operations.
Another exhaustive search that involved 60 people and concluded Thursday evening (Dec. 30) at the Lake Tahoe ski resort, sadly came up empty once again.
Following the latest search, a news release by the Placer County Sheriff's Office offered the words no one wanted to hear, especially Angelotta's family.
"It has been determined there is no realistic possibility Rory has survived the severe winter conditions," the Sheriff's statement said. "This was a difficult decision, especially for the volunteers who have worked so hard to bring Rory home. Unfortunately, it was a decision that had to be made. Our hearts go out to the family."
It has been six days of fruitless efforts since Angelotta went missing Christmas Day. Except for Thursday's search in clear weather, much of it had been done in dangerous blizzard-like conditions, with evening temperatures dipping into the teens, and horrible visibility.
Located off Highway 267 in Truckee, Northstar has received a huge amount of snow this month, a whopping 274 inches (nearly 23 feet) in the past 19 days.
NUMEROUS SEARCH GROUPS DEPLOYED: According to the Sheriff's office, about 220 people and 17 different agencies have dedicated over 13,000 hours searching for the 43-year-old skier from Truckee.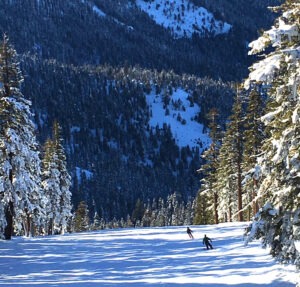 The resources included Nordic skiers, snowshoers, snowcats, snowmobiles, a Blackhawk helicopter, and a CHP helicopter deploying advanced aerial borne radar technology."
The CHP helicopter was seen Thursday crisscrossing the skies over the Tahoe ski resort, trying to pick up a signal from an avalanche safety beacon the missing Truckee skier may have been carrying with him.
Prior to Thursday's efforts, Sheriff's Sgt. Mike Power understood the chances of finding Angelotta alive were minimal.
"For anyone to survive up there with these conditions … is very slim," Powers said. "We've advised the family of that. You can only search so much for so long. We don't know how long we will go. We will make every reasonable effort."
Organizations searching for the lost skier included Northstar Ski Patrol, Tahoe Nordic Search and Rescue (SAR), Placer County SAR, Nevada County SAR, Washoe County SAR, Butte County SAR, Marin County SAR, Bay Area Mountain SAR, Douglas County SAR, Yosemite SAR, Tahoe Back County Ski Patrol, area resort Ski Patrol, National Ski Patrol, Nevada Air National Guard, California Highway Patrol, Northstar California Ski Resort, and Northstar Fire.
WENT MISSING CHRISTMAS DAY: An experienced back country skier who reportedly had brought along avalanche equipment when he went skiing late Christmas morning, it's likely that Angelotta never got the chance to use it.
But it was his advanced skiing skills and the safety gear that kept the hopes alive for his sister Kelsey Angelotta and Rory's other relatives and numerous friends.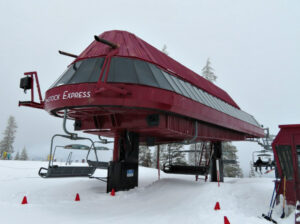 "We don't know if Rory is walking around or if he's hunkered down in a snow cave, or if he's injured or buried," Kelsey said two days after her brother's disappearance. "I do have hope. But it's definitely going to be a miracle (if he's found)."
Kelsey was probably one of the final people to communicate with her brother. He went missing not long after texting Kelsey holiday wishes at 11 am from his job as general manager at the Surefoot custom ski boot store in Northstar Village.
"The last message I had from him (Christmas morning) was, 'I'm closing up shop and going for a few runs,'" Kelsey told Channel 13 TV in Sacramento during a Monday interview.
The Sheriff's office said Angelotta's season ski pass was scanned at the Comstock lift around 11:30 am. An emergency ping on his cell phone showed a short call was made from Northstar at 11:25 am, prior to the phone being turned off.
Angelotta went up the Comstock lift to perhaps explore a mountain he knew little about. Kelsey said her brother, who moved to Truckee in October, had never skied the back side of Northstar, the resort's more advanced area that had recently opened for the season.
An upper-mountain, high-speed lift, Comstock transports skiers and riders more than 1,200 feet to the Northstar summit, located at 8,610 feet.
SEARCH BEGAN CHRISTMAS NIGHT: Friends reported Rory missing around 10 pm after he failed to show up for a planned Christmas dinner in the Northstar Village.
Calls to his cell phone went directly to voicemail and Angelotta's car was later discovered in one of the Northstar parking lots that night.
A search group was quickly assembled and stayed out several hours that evening looking for the lost skier.
"On Christmas night, we went out there and the storm was just rolling in at that point and it was pretty heavy," Power said. "We were still able to scour the mountain. But it (weather conditions) was pretty bad."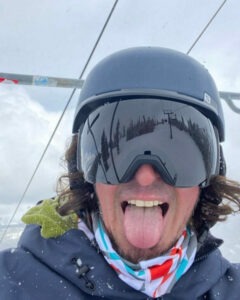 Angelotta was skiing in white-out conditions in a part of Northstar he had never skied before. A few days later, Powers told the media that weather conditions can change on the mountain in moments, creating an extremely dangerous environment, even for experienced skiers.
"It might be a fun day skiing down the hill or it might turn into tragedy. Sometimes people forget that and how the environment can really be dangerous at the top of the mountain," Powers said. "It really can turn into life and death in a short time."
ANGELOTTA GREW UP IN CLEVELAND: Rory Angelotta is described as an affable man who grew up in the Cleveland area and was a 1996 graduate of St. Ignatius High School.
He reportedly moved to Colorado several years ago, then relocated to Truckee this October.
Angelotta still has many relatives residing in Cleveland. His grandfather was John Angelotta, a Cuyahoga County Common Pleas Court judge for 38 years. He died in 2012.
TIP A HELPFUL SIGN GONE BAD: Perhaps the most hope of finding the missing skier occurred Tuesday night (Dec. 28) during the third day of the search by 35 people that reportedly included Angelotta's sister.
Working on a tip, fresh tracks were found in deep snow at a remote area near the ski resort boundaries, according to Sheriff's officials. But the tracks were eventually identified as coming from a bear, not Angelotta.
WEATHER A MAJOR HINDRANCE: Weather complicated the search efforts from the start.
The searchers faced high avalanche danger, strong winds, whiteout conditions, frigid temperatures, and heavy snow loads. On two of the search days, conditions were so severe that Northstar never opened the resort for skiers and riders.
Like all the Tahoe ski resorts, Northstar had been hit hard by waves of snow since the middle of December. The resort reported 34 inches of new snow one day after Angelotta went missing and had 35 more inches the following day.