Rocklin snowboarder Wenyu Zhang was found dead Friday morning in the Squaw Creek area of the Squaw Valley Alpine Meadows ski resort in Lake Tahoe.
The 42-year old Zhang was reported missing Thursday night by friends, according to Squaw Valley Alpine Meadows spokesperson Liesl Hepburn. The Squaw Creek area is a popular intermediate area for skiers and snowboarders.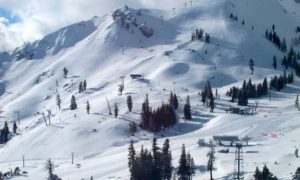 Zhang was found at 10:17 a.m., in bounds at the resort. He was wearing a helmet when he was found. His death has not been determined, according to the Placer County Sheriff's office.
Although he was found near a group of small trees, his body showed no signs of trauma. The cause of death has not been determined. Zhang was wearing a helmet when he was found.
Zhang, who was described as an advanced snowboarder, was last seen by friends at the resort about 12:45 p.m. Thursday as he headed out to go snowboarding, said Dena Erwin, Placer County sheriff's spokeswoman. When he failed to return, his friends reported him missing about 9 p.m.
A search for Zhang had been suspended overnight Thursday due to high avalanche danger, but resumed at daybreak Friday. The effort was aided by a tracking program at the resort that reads a computer chip or reflector attached to clothing, boots or helmets.
Zhang also was found using a "Recco" device, which reads a chip or reflector that's attached to clothing, boots and helmets by manufacturers.
Erwin said family members were at the resort when Zhang was found.
Thursday night severe winds gusted at 146 mph at the top of Squaw Valley, which is located south of Truckee in North Lake Tahoe.
The weather was severe throughout Lake Tahoe on Thursday during a major snow storm. Squaw Valley received 32 inches of snow in a 24-hour period.
Squaw avalanche: On Friday around 1:40 p.m., five people were caught in an inbounds avalanche in the area of the Olympic Lady chairlift, according to a Squaw Valley press release.
One person suffered a serious lower-body injury and was transported to Tahoe Forest Hospital. Another was transported to the Tahoe Truckee Medical Group at the base of Squaw Valley and subsequently released, the news release said. The other three people were uninjured.
The trigger for the avalanche is under investigation. Squaw Valley was closed for the remainder of the day due to the avalanche hazard.