Conditions were so treacherous that many women were enraged that the slopestyle snowboarding event wasn't canceled Monday at the PyeongChang Olympics.
But once the decision was made, U.S. snowboarder Jamie Anderson wasn't among the dissenters. Anderson simply gritted her teeth, took some deep breaths, and did what she always does – remain calm and focused despite conditions that were warping the confidence of her accomplished peers.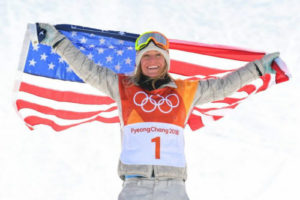 Facing extremely adverse conditions on a day where no one really wanted to compete, the South Lake Tahoe snowboarder turned in a gold-medal winning effort. Anderson defended her crown, one she had earned at the Sochi Olympics, where she also captured gold in the snowboarding slopestyle, an event that made its Olympic debut in 2014.
Give Anderson credit. She flipped on the switch once the contest director had decided the event was safe enough to run.
"It was go time," said Anderson, who learned to snowboard at Sierra-at-Tahoe, a ski resort she still frequents and considers home.
How was Anderson able to do what many in the field of 25 snowboarders could not? Many women felt the decision was irresponsible and the conditions were dangerous?
Adopting a more positive approach, Anderson decided it was a mind-over-matter moment. And anyone familiar with Anderson knows she's one tough lady mentally. This was the Olympics, which meant there was no time for negative thoughts.
"It (the weather) was so much of a struggle, but you just had to deal with it," Anderson said. "In winter sports there is always crazy weather."
Some suggested the weather at Phoenix Snow Park was worse Monday then it was Sunday, when the slopestyle event was pushed back a day. A 24-hour delay did no one any good, Anderson included. As the favorite to repeat as gold-medal winner, she was as anxious as all the other snowboarders who headed up the mountain to compete. The waiting game, which included a 75-minute delay, was pure agony.
"It's pretty crazy, all of us go through so much in our sport with all the pressure," Anderson said.
While the pressure to repeat was enormous, one thing Anderson benefitted from was her status made her the last snowboarder to drop in for the first of her two runs. She watched all but four of the 25 competitors fall on that first run. The lesson learned: don't push it; make a conservative first run.
And that's just what Anderson did, throwing out the original game plan that called for a much more daring performance.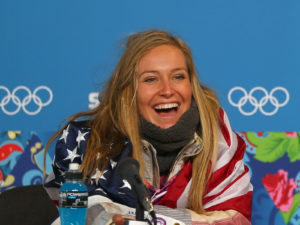 "I wanted to do a backside rodeo 540, a cab 900 and a frontside 10. But that was in a perfect world," said Anderson, who worked her tail off the last four years, realizing her rivals were pushing the envelope and she better be doing it as well.
The result was a lot of frustrating days that resulted in numerous busted up lips and black eyes pursuing the new tricks.
A more subdued Anderson started down the Phoenix Snow Park slope by landing a backside 540 on the first jump and a frontside 720 on the last jump. In between, she had to make a monumental decision while in mid-air. To avoid possible trouble, she decided against the very risky cab double cork 900 and switched to the way more conservative 540.
Quick thinking and grace under pressure proved the difference. Her first run score was nothing great – 83.0 – but it was nearly 7 points better than anyone else on Monday and stood up after Anderson failed to finish her second run.
Anderson's performance thrilled the 17 family members who were shivering in the freezing cold for hours, but were determined to be on the hill to cheer on their beloved Jamie. Her older sister, Joanie Anderson, a former X Games champion in snowboardcross, understands the essence of Jamie.
"What I'm most amazed by is the mental and emotional aspect of what she does, staying grounded when the conditions are poor, and it's scary and dangerous," Joanie said.
For Jamie Anderson, it was a victory of the mind.
Olympic commentary: Shaun White returns to Olympics with something to prove