For people who want to experience a taste of Germany, that includes its renowned beer, the annual Oktoberfest should be an appealing event Sept. 22 at the Village of Squaw Valley
The Village at Squaw Valley comes alive on the first day of fall with the 17th annual Oktoberfest. The Village will transform into an Oktoberfest festival, complete with authentic German beer and food, Bavarian music and performances, and popular Oktoberfest-themed games.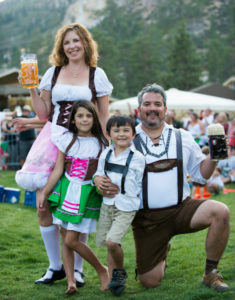 All beer sales from Squaw Valley's Oktoberfest in Lake Tahoe will go toward benefitting the High Sierra Lacrosse Foundation, a non-profit organization that supports student athletes developing character and skills through the sport of lacrosse.
The festivities get an active start with the Lederhosen 5k Trail Run on the Squaw Valley Trail. Entry into the festival is free for all ages, but lederhosen and dirndls are highly encouraged. All event attendees must be 21 or older with a valid ID to purchase beer. Oktoberfest runs from noon to 6 p.m.
"Oktoberfest is an annual event that is celebrated internationally every fall. The Village holds an Oktoberfest celebration of its own and offers authentic food, music, and competitive games for the whole family," said Caroline Ross, executive director for the Squaw Village Neighbourhood Company. "We're so proud to support the High Sierra Lacrosse Foundation during this event and hope to beat last year's proceeds of $30,000!"
Guests are encouraged to wear their Bavarian best and kick off Oktoberfest early with the Tahoe Trail Running Lederhosen 5k. Starting at 11 a.m., the course will be out and back on the Squaw Valley Trail. Race contestants will receive a free digital race photo, post-event activities, and SWAG from Salomon, Big Blue Adventures, and other amazing sponsors. Contest and awards for the best Lederhosen, race winners, and a raffle will commence after the end of the race.
Oktoberfest 2018 will feature Bitburger Premium Pilsner, Kostritzer Black Lager, Kostritzer Pale Ale, Benediktener Oktoberfest Lager, Benedicktener Weissbeir and more traditional craft Oktoberfest brands. A .5-liter Squaw Valley Stein will be available for purchase for $20 – with two beers included in the price. Additional beers are available for $5 each. Bratwurst sausages, schnitzels, pretzels, and non-alcoholic Rootbeer Floats will be available from local restaurants and vendors.
Bavarian musical guests and performers at Squaw Valley's Oktoberfest include Joe Smeill and his 20-piece Bavarian Band with the Amenrausch Schuhplattler Bavarian Folk Dancers in the Events Plaza, and The Alpentanz Kapelle Band with the Alpentanzer Schuhplattler Bavarian and Austrian Folk Dancers in the Funitel Plaza Area.
Guests of all ages are encouraged to participate in the OktoberGames, featuring a Keg Rolling Race, a Brat Toss and a Stein Holding Competition.
Below is a complete Oktoberfest schedule 

11 a.m., 5K: Trail Run out and back on the Squaw Valley Trail
1 p.m., Keg Rolling Race: Roll an empty keg through a challenging course. The player with the fastest time wins
2:30 p.m., Brat Toss: Toss a bratwurst onto a keg, with each round adding difficulty. The last person standing wins
4 p.m., Stein Holding Competition: Two full 1-liter steins are held at shoulder height. The last person standing wins.
For more information, call 866 818-6963.