A snowboarder died Thursday at Northstar California ski resort in Lake Tahoe from an apparent fall into a tree well, according to resort sources.
The 43-year-old male snowboarder was from New Canaan, Connecticut. Northstar officials notified area media at 6:45 a.m. with a Friday statement via email. The name of the individual has not yet been released by the Placer County Medical Examiner's Office, pending next-of-kin notification.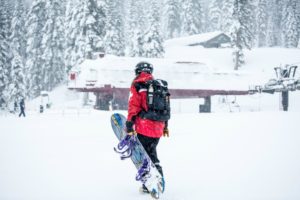 According to the resort statement, the Northstar California ski patrol responded to an incident on advanced terrain where the guest had been snowboarding. Northstar Fire Department responded and provided emergency care. The man was pronounced dead at the scene after going into the tree well head first.
"Northstar, Northstar Ski Patrol and the entire Vail Resorts family extend our deepest sympathy and support to our guest's family and friends," said Nadia Guerriero, vice president and general manager of Northstar California, in a written statement.
According to the Sierra Sun, Dane Jasper of Santa Rosa was skiing at Northstar on Thursday when he said he heard a fellow skier, who was an emergency room doctor, yelling for help near the area where the Connecticut man had fallen into the tree well.
"We found him on his back, in a tree well, unconscious," Jasper said in an email to the Sierra Sun. "Together, we couldn't pull (the man) out, so we kept shouting until another man arrived, and the three of us managed to pull the man out. We gave CPR until ski patrol arrived, but he wasn't responsive."
Thursday's death marks the second on-mountain fatality this season at Northstar. In December, 35-year-old Northstar ski instructor, Dennis Baltimore from Incline Village, was skiing down the resort's Village Run when he lost control and did not survive the crash.
Like all Lake Tahoe resorts, Northstar has received large amounts of snow, especially the past two months when the Truckee ski resort has surpassed its yearly average snowfall. Northstar got 11 inches of snow at its upper mountain overnight Wednesday, resulting in a seven-day snowfall total of 94 inches. For season to date, Northstar has gotten 562 inches of snow.