One more Lake Tahoe ski resort will be opening today: Northstar California.
Located on on Highway 267, just six miles north of Lake Tahoe and six miles south of downtown, Northstar is the third Lake Tahoe ski resort to open this season.
Boreal ski resort has been open since early November and Heavenly Mountain Resort opened today.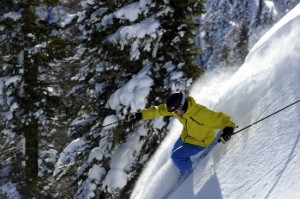 Resort has 20 inches snow
Like most of the Tahoe ski resorts, Northstar received a nice gift this week – 20 inches of fresh snow. Low temperatures in the Sierra in recent days has also allowed the resort's snowmakers to work around the clock, adding to the natural snow pack.
"We are looking forward to a remarkable opening weekend," said Northstar Chief Operating Officer Bill Rock. "I am incredibly proud of our teams and we are looking forward to a great season."
Three lifts available today
Skiers and snowboarders can count on three lifts and four trails to be open at Northstar ski resort and running for opening day.
Big Springs Gondola will open at 8 a.m. and will debut its remodeled gondola cabins. Vista Express and Arrow Express will run from 8:30 a.m. to 4:00 p.m.
Four trails open
Northstar ski resort is opening day skiers and riders will have access to four open trails, including Skid Trail, Upper Lumberjack, Upper Main Street and Lower Main Street.
Several opening day activities are also planned throughout the weekend, including a Starbucks coffee cup scavenger hunt in the Village and an Epic Pass Club giveaway. Details can be found online.
Lift ticket prices
Lift ticket prices at Northstar ski are $90 for adults; $75 for teens (age 13-18) and seniors (65-above); $49 ages 5-12; and free for kids 4-under. Lift tickets are available online at NorthstarCalifornia.com, by phone at 1.800.GO.NORTH.
Vail Resorts' three Lake Tahoe resorts – Heavenly, Kirkwood and Northstar – . are all scheduled to open leading into the Thanksgiving holiday. The Tahoe Local and Tahoe Value Passes ends this Sunday. Visit www.epicpass.com for details.