What can one expect if skiing or snowboarding on New Year's Day in Tahoe? Accommodating weather and conditions.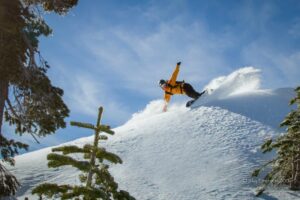 Thanks to a light snow that greeted skiers and riders Thursday morning (Dec. 30), Tahoe ski resorts will have a smattering of new snow and mostly sunny skis to bring in the New Year on the slopes.
"Friday we should see lighter winds and warmer temps with some sun. Highs in the 30s on the mountains and near 40 degrees at lake level," wrote Bryan Allegretto, California Snow Forecaster for OpenSnow. "We could see some clouds start to move in later in the day from the approaching systems for the weekend."
Tahoe ski resorts got between 2-5 inches from the modest snow that took place overnight on Wednesday. Both Sugar Bowl and Boreal Mountain benefitted the most snowfall with 5 inches. Squaw Valley Alpine Meadows had 4 inches.
In South Lake Tahoe, Heavenly was reporting 2 inches.
That brings December's snow totals slightly above November totals, and the Tahoe region has about 55-56% of average snowfall for the date. (see Sierra Snow Pack measurements below).
The bad news for powder hounds is there will be no pow days over the holiday weekend. But next week that will change with two storms that could result in several feet of fresh power at Tahoe ski resorts.
"The consensus on the latest model runs is that we will see clouds and maybe very light and scattered showers around Friday night through Sunday night," wrote Allegretto.
SNOW ARRIVES MONDAY: This will likely to be a classic Sierra storm day, says Allegretto. "We will see a storm move in Monday morning that will bring some heavy snow, fluctuating snow levels, and strong winds over the ridges."
The heaviest precipitation is expected to be during the day on Monday with snow showers lingering into the evening before ending by Tuesday morning. The result could be 6-18 inches on the mountains.
There appears to be a break in the weather Tuesday (Jan. 5) – an ideal powder day. The weather should be mostly sunny skies for Tuesday with lighter winds and highs in the 30s.
ANOTHER STORM WEDNESDAY: According to Allegretto, this storm also looks colder with snow levels possibly staying below lake level. The storm has the potential to be a good one for Tahoe ski resorts, resulting in totals of 1-2 feet of snow.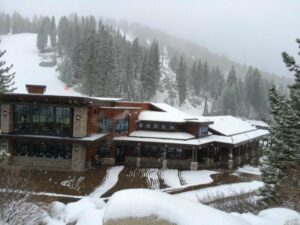 SIERRA SNOW PACK: The first snowpack survey of the season near South Lake Tahoe surprised state officials. The statewide snowpack is at 52% of median, but California Department of Water Resources (DWR) officials at Phillips Station near Sierra-at-Tahoe measured it to be 93% in that location. Surveys have been conducted at Phillips Station since 1941.
Sean de Guzman, chief of DWR's snow survey and forecasting, conducted the measurement and said the numbers are "a little bit higher" than what they have been seeing based on the automated snow sensory network, which is made up of about 130 different sensors placed throughout California.
The next survey is tentatively set for Feb. 2.