Mt. Rose ski resort received 4 feet of new snow in the past day and was bombarded by 76 inches from the three-day storm.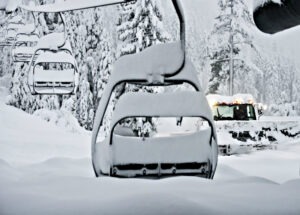 Despite receiving the most snow of any Tahoe ski resort, problems also ensued for the popular Nevada ski resort near Incline Village, typifying what can happen when the Lake Tahoe region gets pummeled with snow for three straight days.
Mt. Rose has been closed Monday and Tuesday (Dec. 14) due to heavy snowfall, high winds, and the shutdown of its main road artery for skiers and snowboarders.
"Mt Rose was closed on Monday due to blizzard conditions and today's closure is due to Mt. Rose Highway (State Route 431) being closed to the mountain from both Reno and Incline Village," said Mt. Rose spokesperson Mike Pierce. "Wednesday will hopefully see the lifts spinning again."
Thanks primarily to its snowmaking capability, Mt. Rose opened Friday (Dec. 10) with top-to-bottom skiing and snowboarding. The huge snow totals this week will allow for far more areas to be opened.
The Northern California atmospheric river storm began early Sunday morning and was winding down Tuesday afternoon after dropping 3-6 feet of snow on Tahoe ski resorts that were desperate for snow following an exceptionally dry November.
SEE TAHOE SNOW REPORT STORM TOTALS BELOW
While Tahoe ski resorts were reveling in the much-needed storm, the region and its residents were faced with multiple issues that included power outages, avalanche controls and road closures.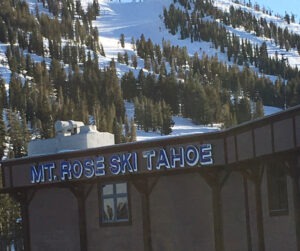 Tuesday morning the Tahoe Tribune newspaper was reporting Liberty Utilities had 23 separate incidents that left an estimated 33-percent of its customers without power in South Lake Tahoe.
The two main thoroughfares into Lake Tahoe – Interstate 80 and Highway 50 – both experienced shutdowns Monday night and Tuesday, although they were reopened late Tuesday morning.
PALISADES' PROBLEMS: Like Mt. Rose, not all the news was good at Palisades Tahoe (formerly Squaw Valley Alpine Meadows).
The ski resort was closed Tuesday after receiving 5 feet of snow over the past week, including 52 inches the past three days.
"While we are excited to see all this new snow, we want people to know that travel in the Sierra is discouraged Tuesday," Palisades spokesperson Alex Spychalsky said. "Road conditions are hazardous, especially for drivers who are not accustomed to driving mountain roads in the snow."
Closing Tuesday is giving Palisades an opportunity to greatly increase terrain for skiers and riders that has previously been limited to only beginner areas. Palisades is expected to offer more advanced runs by Wednesday.
SUGAR BOWL OPENING WEDNESDAY: Eager to get going, the popular ski resort off Interstate 80 in Norden will finally usher in the season.
Sugar Bowl and two other Tahoe ski resort to open by Thursday. The remaining closed resorts will likely be running their lifts by this weekend.
Sugar Bowl is expected to operate three lifts – Jerome Hill, Christmas Tree, and Nob Hill. The resort will quickly try to get the Lincoln and Disney chairlifts going later this week.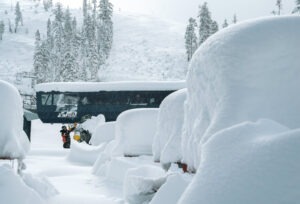 "High winds and deep snow may slow us, but can't stop us," said Jon Slaughter, Sugar Bowl spokesperson. "Our entire operations team has been hustling to get the mountain ready to open throughout this raging storm. We can't wait to kick off the 2021-22 season."
Note that both Wednesday and Thursday, Sugar Bowl will be reserved for season passholders, their friends and family on a voucher, and the few who have pre-purchased lift tickets for the day.
No additional lift tickets will be sold those two days.
As of Tuesday afternoon, the resort said it only had a small number of lift tickets on sale for Friday through Sunday.
Homewood Mountain will also open Wednesday, celebrating its 60th season.  Diamond Peak has scheduled its opening Thursday.
WEATHER FORECAST: Snow showers should begin again Wednesday afternoon with heavy snow that evening and lasting into Thursday afternoon, according to OpenSnow Forecaster Bryan Allegretto.
Allegretto predicts Tahoe ski resorts will receive an additional 1-2 feet of new snow by Thursday afternoon.
More storms are in the forecast next week, possibly as early as Monday and lasting for three to four days.
TAHOE SNOW REPORT (storm total, Dec. 14)
Mt. Rose: 76 inches
Boreal: 55 inches
Palisades: 52 inches
Soda Springs: 52 inches
Sugar Bowl: 52 inches
Heavenly: 48 inches
Homewood: 45 inches
Tahoe Donner: 44 inches
Northstar: 44 inches
Kirkwood: 43 inches
Diamond Peak: 36 inches
Sierra-at-Tahoe: NA