The weather has turned unseasonably cold and wet again in Lake Tahoe, where three ski resorts remain open for the 2022-23 season.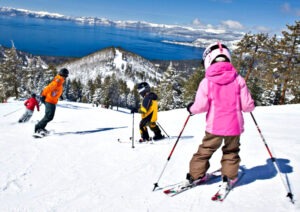 Snow has arrived at Tahoe ski resorts on multiple occasions this week, adding a bit more to the record season of snow at Heavenly, Palisades Tahoe and Kirkwood, the three resorts that remain open.
Kirkwood: Celebrating its 50th anniversary season, Kirkwood add two additional weekends to its season, staying open May 5-7 and concluding May 12-14. The resort is closed Monday through Thursday.
Kirkwood reported 3 inches of fresh snow Saturday morning (May 6), 10 inches over the previous 48 hours, and 15 inches during the past week. For the remainder of the season, Kirkwood is running four lifts – chairs 5, 6, 10, and 11.
Situated approximately one hour from South Lake Tahoe off Highway 88, Kirkwood receives an average snowfall of 350 inches. So, this year's total (723 inches) more than doubles that average amount.
Heavenly: On Saturday, Heavenly was operating seven lifts that accessed 68 trails. The South Lake Tahoe ski resort, which added three full weeks to its schedule this season, will offer its final day of skiing and riding Sunday (May 7).
Heavenly received 4 inches in the past 48 hours and 19 over the past week, extending its record-high snowfall total to 579 inches for the 2022-23 season. The previous snow total record was 564 inches in 2016-17. Heavenly averages 360 inches of snow in a normal season.
Palisades Tahoe: There should be no great rush to get to Palisades Tahoe because it vows to stay open through July 4. Pushing back its closing date to Memorial Day Weekend, last year, Palisades Tahoe will again be the region's last resort to close for the season.
The ski resort in Truckee was running 10 lifts with 114 trails available for skiing and snowboarding Saturday (May 6). Palisades Tahoe's spring skiing hours are from 8 am to 2 pm.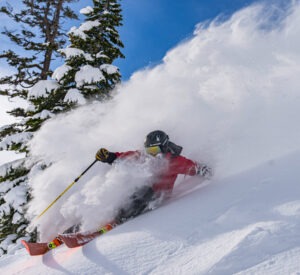 Palisades Tahoe was reporting 2 inches of new snow Saturday morning and 6 inches in the past week, extending its record-setting season total to 716 inches.
Operations at Palisades Tahoe will look a bit different this year than in summers past. Typically, the resort runs the Funitel on the Palisades side to its upper mountain throughout the warmer months. But this year, the resort is replacing the haul rope on its Funitel, thus closing the Palisades side of the mountain May 29.
This season the Alpine side (formerly Alpine Meadows) of Palisades Tahoe will be open Fridays, Saturdays, and Sundays for skiing and snowboarding throughout May and continuing through the Fourth of July weekend.
WEIRD WEATHER PATTERN: The first weekend of May will feel a bit like a typical February in Lake Tahoe, with wintry weather. The unseasonable weather will be a welcome sight for skiers and riders trying to get their last runs in.
Winds are expected to pick up Saturday afternoon as the low-pressure system's cold front passes, leading to 25 to 30 mph gusts along the Interstate-80 pass. The Lake Tahoe area and most of the foothills have about a 15% to 25% chance of hearing thunder, along with the potential for light snow showers and rainy downpours. Heavenly closed its lifts Thursday due to lightning strikes.
Sunday is predicted to be a much better weather day, with sunnier and drier conditions. Daytime temperatures are forecast to reach the upper 40s to lower 50s at many of the resorts and parks in the Sierra.
Drivers headed to Lake Tahoe this weekend probably don't need to worry about snow issues or any delays along I-80 or Highway 50, the two main corridors into Lake Tahoe.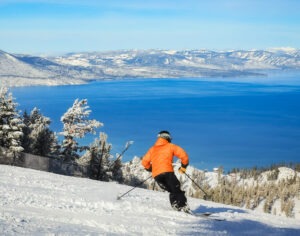 TAHOE SKI RESORT CLOSING DATES