Leaning how to snowboard is generally considered easier than learning how to ski.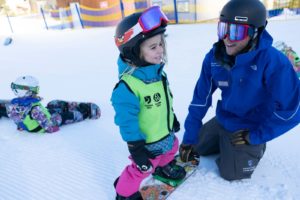 A beginning snowboard lesson often includes a variety of ages, because snowboarding is not just for kids.
A group lesson might include the 40-something guy looking to switch from skis to the board; a youngster under-10 who is anxious to snowboard because it looks cool; or a teenager who wants to hop on the board because that's what all his friends are doing.
While snowboarding can be tougher initially, many industry insiders feel skiing is more difficult to master. Skiing has a lot more technical aspects in order to become proficient, while snowboarding is a little trickier in the early stages. But overall, it's less precise than skiing.
Considering the youthful impatience of many teens and younger-aged children, snowboarding might be the way to go.
Starting out on a snowboard is one of those no-pain, no-gain endeavors. So, let's get this proven fact out in the open right away – expect to fall frequently. Although the chances of taking a lesson and getting hurt are minimal, be prepared to fall and be rolling around in the snow.
With that in mind, here is a tip that many first-time snowboarders wished they had known. Make sure to wear water-proof pants and warm gloves. The biggest mistake many people make is wearing jeans, which get soaked after a few falls.
While all Lake Tahoe area resorts offer a good learning environment for snowboarding, it's tough to beat Boreal Mountain, which is where many first-timers wind up. The popular resort off Interstate 80 past Soda Springs has a modest terrain that starts at 7,200 feet and rises to only 7,700, so even from the freeway one can see Boreal is not an intimidating hill.
Boreal not only offers an introductory lesson on a groomed portion of the mountain, it will take the more daring riders to a beginner terrain park for some instruction there as well.
For that first lesson, beginners are introduced to the equipment and safety will be discussed, which includes how to get on and off a chairlift. Balance and technique, two crucial aspects, will be stressed with a goal of having people be able to master linking turns that first day.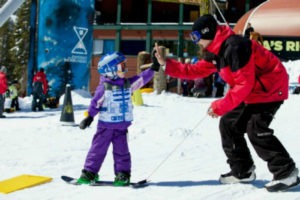 Coming back for a second lesson is advisable, yet many people want to get out on their own immediately, especially teenagers. Although not always ready, they often think the opposite.
Beginner Snowboarding Tips
Keep knees bent and back straight. It should feel like sitting in a chair
Weight always forward, perhaps hardest concept to grasp. The natural inclination is leaning backward, which generally results in a fall
Hands stay in front for balance
Keep weight on uphill edge of snowboard, the one closest to top of hill. Avoid catching downhill edge; this often results in head-first fall
Speed control; don't let the hill dictate speed
Always look ahead and don't stare at your feet
Expect to fall. No falling probably means no significant progress
Wear warm gloves and snow pants. Jeans will get soaked in a hurry