Huge snowfall totals in February have led Homewood Mountain to extend its ski season to April 21.
Like many Tahoe ski resorts, Homewood Mountain had a huge February, with storms arriving regularly. As of March 6, 540 inches of snow had already fallen on the slopes at Homewood Mountain. The resort announced it plans to extend the winter season by two weeks, pushing its scheduled closing day to April 21, weather and conditions permitting.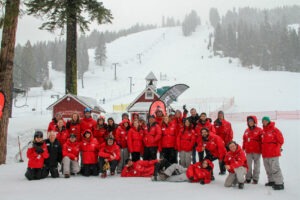 "Thanks to the tremendous snowfall we've experienced so far, we are excited to extend our season two more weeks this winter," said Kevin Mitchell, general manager of Homewood Mountain Resort. "We want everyone to take advantage of the great season and buying a Homewood 2019/20 season pass this spring will allow guests to do that – by skiing free the rest of this season, along with all of next year.
To celebrate the historic winter conditions for skiing and snowboarding Lake Tahoe this season, Homewood is kicking off its 2019-20 season pass sale on Monday, March 11 with a limited quantity of adult Ultimate full season passes starting at $389 while supplies last.
Offering the best value in the region, Homewood's "Ultimate Pass" is valid all season long with no restrictions or blackout dates. In addition, those who purchase their 2019-20 season pass can ski free until the end of the current season.
Following the limited time "flash sale," the unrestricted Ultimate Pass will be available this spring for $469 for adults (ages 19-61), $409 for teens (ages 13-18), $199 for juniors (ages 5-12) and $329 for seniors (ages 62-plus) and those under the age of four always ski or ride free at Homewood Mountain Resort. For families who ski and ride together and are looking for the best value the Homewood Family Pass is also available for purchase.
The Ultimate Family Pass starts at $1,249 and includes two adult and two dependent child/teen (ages 5-18) season passes, valid throughout the 2019/20 season with the ability to ski free this spring.
For more information, visit www.skihomewood.com.
Earlier this week, Diamond Peak ski resort in Lake Tahoe announced it would extend its season a week – running lifts until April 21.
Squaw Valley Alpine Meadows announced this week that it would stay open through July 7
In late February, all three Vail Resorts in the Lake Tahoe region – Heavenly Mountain, Northstar California, Kirkwood Mountain – announced they would stay open due to the excessive amount of snow that has been piled up all February.
Closing Time
Heavenly Mountain: The South Lake Tahoe resort plans to extend the season through April 28, with a bonus 3-day-weekend May 3-5.
Northstar California: Located off Highway 267 in Truckee, Northstar plans to extend the season through April 21.
Kirkwood Mountain: The resort off Highway 88 will extend the season through April 14 with a bonus 3-day-weekend April 19-21.