Although the ski season remains months away, Heavenly ski resort in South Lake Tahoe is still offering plenty of activities.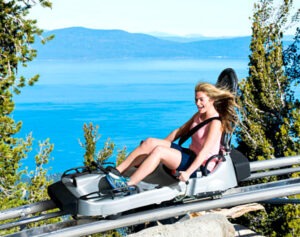 And many of the popular activities have been extended to after Labor Day. Heavenly recently announced it would be extending its summer weekend operations through Oct. 2. The resort originally planned to close summer operations around Labor Day (Sept. 5).
Activities that will remain open through the extension include the Mountain Coaster, Gem Panning, sightseeing and hiking trail access via the Gondola and Tamarack Express. These activities, as well as food and beverage at Tamarack Lodge and Café Blue, will continue Fridays-Sundays during normal operating hours – 9:30 am to 4 pm.
"We're thrilled to bring the changing seasons to guests who come to South Lake Tahoe from around the world, especially as we look ahead to ski and ride season, which is around the corner," said Heavenly spokesperson Cole Zimmerman.
Besides the Mountain Coaster, Gem panning, hiking and sight-seeing, current Heavenly activities through Labor Day include Granite Peak climbing wall and flyer zip line.
MOUNTAIN COASTER: This gravity-powered alpine coaster is tons of fun for the entire family as it quickly travels through forest and natural rock formations. The views of Lake Tahoe and nearby scenery add to the coaster's enjoyment.
The coaster sleds fit up to two riders, so you can enjoy this activity with one other person. Drivers must be at least 16 (if accompanied by a passenger), between 54-84 inches tall. Closed-toed athletic shoes are required for all activities.
Pricing: Adult One Ride: $93; Senior/Teen One Ride: $80; Child One Ride: $63; Passholder One ride all ages: $35.
GEMSTONE PANNING: This is an interactive activity simulating the gold panning that made the famed Gold Rush such a fascinating historical phenomenon in the mid-to-late 1800s. This activity gives a great historical context for kids, while also offering the possibility of finding a great souvenir.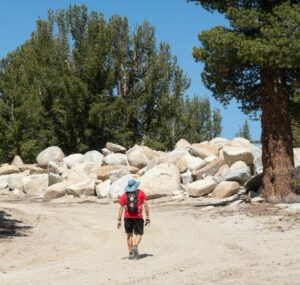 Activity restrictions are one gemstone panning session per pass. Closed-toed athletic shoes are required for all activities.
Tickets will be available online and at ticket windows. Cost is $19, and $9 for an additional experience.
GONDOLA RIDE: A 2.4 mile ride up in the Heavenly Mountain Gondola is a tremendous way to enjoy the panoramic views of scenic Lake Tahoe.
Once passengers get to the top, head to the Tamarack Express chairlift with a Scenic Gondola ticket for some of the best views of Lake Tahoe and access to a series of hiking trails – ranging from beginner to expert.
On the way up, stop at the Observation deck for photos, a latte at Cafe Blue or a unique Heavenly souvenir at the Gondola Sports shop.
Cost for a Gondola Ride is Adult (ages 19-64): $63; Child (ages 5-12): $32; Teens (13-18) & Seniors (65+): $49. Note children age of 4-under are free on the gondola ride only.
HIKING: at Mid-Station Trailhead. All distances are one way.
Martin's Peak Trail 0.2 Miles | 102 feet elevation gain
Black Bear Hollow Trailhead (top of gondola)
Loop Trail .3 Miles | 30 feet elevation gain
Cal Trail Lookout .4 Miles | 30 feet elevation gain
Tamarack Trail 1.3 Miles | 584 feet elevation gain
Carson Valley Overlook .3 Miles | 60 feet elevation gain
Skyline Trail .9 Miles | 230 feet elevation gain
Tamarack Trail 1.3 Miles | 584 feet elevation gain