The curtain finally came down on the ski season at Squaw Valley.
The popular Tahoe ski resort closed Sunday (July 7), ending the fourth largest season of operating days in the resort's history. The season lasted nearly eight months and there were 212 operating days this season.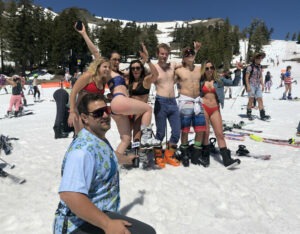 Squaw Valley Alpine Meadows opened for the 2018-19 season on Nov. 16, with almost entirely manmade snow. Despite the humble start, the season quickly became an epic one for snowfall. There were huge snowstorms hammering Squaw Alpine Meadows and other Tahoe ski resorts during the height of the winter months.
Squaw Valley ended the season with 719 inches of total snowfall, including a monumental 315 inches in February. The 2018-19 season was the third snowiest season on record. February smashed the resort's previous record to take the title of snowiest month ever for Squaw Valley Alpine Meadows.
Three other Tahoe ski resorts received more than 600 inches this season, while five resorts received 500 or more inches. Exceeding the 600-inch mark were Sugar Bowl (618), Homewood Mountain (606) and Northstar California (601).
Heavy winter storms broke records for snowfall this season.
"Record-breaking snow conditions paired with the hard work of our mountain operations teams have made for a truly unforgettable season," Mike Goar, vice president and chief operating officer of Vail Resorts said in late February. "We offered skiers and riders additional opportunities to take advantage of these amazing spring (and summer) conditions across the region."
It should come as no surprise that Tahoe ski resorts saw a 17-percent increase in snow visits for the 2019-19 ski season.
California and Nevada ski resorts had 7.3 million visits this season, according to preliminary figures released by the National Ski Areas Association and the California Ski Industry Association. That equates to a 17-percent from last year, and 11-percent above the 10-year average. The number of visits were up year-over-year every month from October through March.
Nationwide, this year's totals were the fourth-biggest season on record, with 59.1 million visitors to ski resorts.
More snow means California and Nevada resorts were able to open on time and stay open later. On average, resorts in the region stayed open for 145 days, the most since 2010-2011 and 16 days longer than last year's average.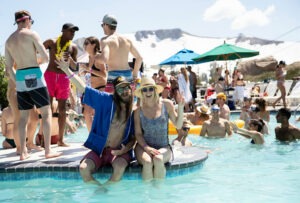 On Sunday (July 7) at Squaw Valley, an enthusiastic crowd of skiers and snowboarders got their last turns of the season. Squaw ran three lifts until 2 p.m., then officially shut down for the season.
The final days at Squaw saw skiers and riders wearing unique ski fashions, flaunting their craziest styles. For the Fourth of July and the final weekend, many skiers and riders were dressed in red, white and blue, neon costumes, or merely bathing suits.
Freedom Fest kicked was held over the weekend, and guests grooved in their ski boots to the midday concert from Grant Farm, who played its show of Grateful Dead covers at the Gold Coast Lodge. There were multiple live music venues across the mountain and Village throughout the holiday weekend, including the headline show of the weekend, Paul Oakenfold's DJ performance Friday evening on the KT Deck.