A late gift will arrive late Christmas afternoon at Tahoe ski resorts – Snow!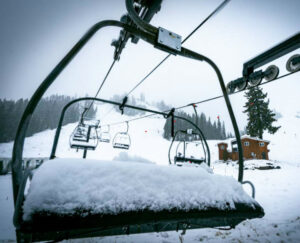 The National Weather Service (NWS) in Reno issued a winter storm watch Tuesday for the Tahoe Basin that goes into effect Christmas afternoon and lasts through Saturday morning.
The Christmas evening storm could drop as much as 18 inches on Tahoe ski resorts. The NWS says heavy snow is on its way and that 3-8 inches may fall at lake level and a foot or more above 7,000 feet.
The bad news with the snow is wind. The storm could be accompanied by a strong wind that may reach more than 85 mph at higher elevations.
The NWS believes a second, colder storm is possible Sunday into early Monday, although the forecast is uncertain. Wednesday and Thursday the weather at Tahoe ski resorts turns to mostly sunny with high temperatures ranging from the low to uppers 40s.
Bryan Allegretto, California Snow Forecaster with OpenSnow, writes that snow levels may start around 6,500-7,000 feet when wind gusts shoot up to 80-plus mph over the ridges by Christmas afternoon. The snow should fall fairly quickly in the evening below lake level as heavier precipitation moves in. The snow should begin falling around 5,000 feet or just below by Saturday morning.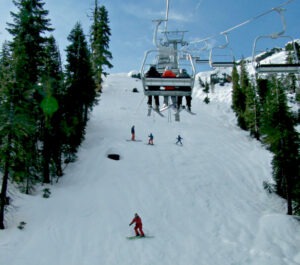 Allegretto says the European model trending a bit drier and has the high-end forecast at 15 inches of new snow by Saturday. He says a break Saturday afternoon comes and lasts into Sunday before a second storm brings snow showers and a few inches Sunday night into Monday morning.
MORE TERRAIN AT SUGAR BOWL: Recent new snow, along with strategic grooming and snowmaking efforts, have allowed the resort to open more lifts and additional terrain just in time for the Christmas holidays.
The steeper Mt. Lincoln terrain, including the Sisters, the '58 and Steilhang, opened last week along with most of the acreage served by Disney Express. The Mt. Judah Express is now open for the season as well, serving a handful of groomed runs on the Judah side.
Sugar Bowl believes it is one storm away from getting Crow's Peak lift open – it's prepped and ready to ride once Mother Nature delivers. Snowmaking continues at every opportunity, when possible.
Lift tickets remain available for most days at Sugar Bowl during the upcoming holiday period, but quantities are limited and tickets are selling fast.