Santa Claus delivered a timely batch of fresh snow on Christmas morning, making it a powder day at many Lake Tahoe ski resorts.
A sizable snow storm came at a perfect time, since the busiest time of year at Lake Tahoe ski resorts is during the Christmas holidays. The latest snow insures good conditions throughout the holiday season.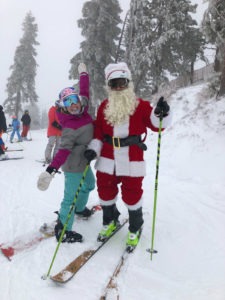 Northstar California and Diamond Peak, a family-friendly ski resort in Incline Village, received the most snow among Tahoe ski resorts with 13 inches. Five other Tahoe ski resorts (Boreal, Squaw-Alpine, Sugar Bowl, Mt. Rose, Soda Springs) received 10 or more inches of new snow.
According to Opensnow California forecaster Bryan Allegretto, Kirkwood Mountain and Sugar Bowl are the first Lake Tahoe ski resorts to reach triple digit snow totals for the season. Kirkwood reported up to 7 inches of new snow Christmas morning, pushing its total to 110 inches for the season. Sugar Bowl received 10 inches and now has 101 inches for the 2018-19 season.
After receiving up to 11 inches from the recent storm, Squaw Valley Alpine Meadows has 99 inches this season. Sierra-at-Tahoe (83 inches) and Northstar California (80) have the next highest totals among Tahoe ski resorts.
The season snow totals are above last year's at this time of the season. A year ago, Mt. Rose had the highest snow total among Lake Tahoe resorts with 72 inches. However, the average year-to-date totals are down. Allegretto reports that annually, seven Lake Tahoe resorts are over the 100-inch mark by Christmas.
Skiers and snowboarders should enjoy the new snow, because this is probably the last storm in 2018. No further snow is expected into the New Year. The Tahoe weather will be cold weather with several windy days between now and New Year's Day.
Allegretto is predicting "dry and cold air through New Year's Eve." The high temperatures will likely be in the 30's Wednesday (Dec. 26) and dip into the 20's Thursday and Friday. There is a chance of some light snow showers New Year's Eve from weak systems dropping down from the north. Allegretto says that "storms could break back into California sometime during the second week of January."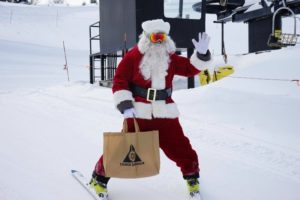 CHRISTMAS SNOW TOTALS
Boreal Mountain: 10 inches
Diamond Peak: 13 inches
Heavenly Mountain: 9 inches
Granlibakken: 4 inches
Homewood Mountain: 7 inches
Kirkwood Mountain: 7 inches
Mt. Rose: 11 inches
Northstar California: 13 inches
Sierra-at-Tahoe: 7 inches
Soda Springs: 10 inches
Squaw Valley Alpine Meadows: 10-11 inches
Sugar Bowl: 10 inches
Tahoe Donner: 6 inches