For a number of vehicles these days, the debate continues to confound the general public. The lingering question – is it an SUV or a wagon?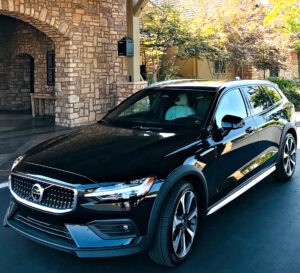 The 2023 Volvo V60 Cross Country certainly fits in that category. While Volvo clearly identifies the Cross Country as a wagon, if one does enough research online they will definitely discover it also gets frequently characterized as a midsize crossover SUV.
From our perspective, if the vehicle in question has a sleek overall appearance and a distinctive low-slung, long roof that extends from front to back – it's a wagon. If one knows anything about Volvo, they understand the Swedish automaker likes manufacturing wagons. Four of them include the standard V60, V60 Recharge (plug-in hybrid), V60 Cross Country and the larger V90 Cross Country.
Once nearly extinct, station wagons have resurfaced. They aren't your dad's classic station wagon from the 1960s and early 1970s. There's no wood paneling or a tailgate that kids often dangerously sat on while the vehicle was being operated. The new breed of wagons possesses some modern flair, and yes, many of them can be misidentified as SUVs due to the similarities.
Wagons like the V60 Cross Country offer extra space and handle much like a "regular" car. The Cross Country has lots of interior space, enough to easily transport five adults. Right now at least, there is no third row. A bonus is the wagon sits 8.1 inches off the ground and has standard all-wheel drive, giving it the capability of taking some mild off-road adventures.
The V60 Cross Country won't wow anyone with its performance, yet it's no slouch either. The engine is a turbocharged 2.0-liter, four-cylinder that generates 247 horsepower and 258 pound-feet of torque, and is paired with an eight-speed automatic transmission. It goes 0-60 mph in 7.1 seconds and gets 23-30 mpg. Its large 15.9-gallon gas tank means it can go a long way before requiring a fill-up.
We found the V60 Cross Country a pleasure to drive. Acceleration is good and so is the handling. The wagon has a nimbleness and the overall ride quality is admirable.
Standard advanced driver safety features include blind-spot warning with rear cross-traffic warning, forward collision and lane departure mitigation, adaptive cruise control, driver attention warning, rain-sensing wipers, 360-degree camera, front and rear parking sensors, and automatic high beams.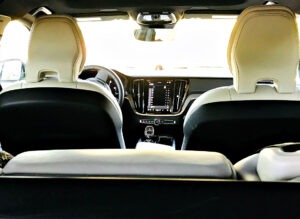 AT A GLANCE – 2023 V60 VOLVO CROSS COUNTRY
Performance: turbocharged 2.0-liter, four-cylinder, 247 horsepower
Mileage estimate: 23-30 mpg
Price estimate: $48,900 to $54,200
Warranty: 4 years/50,000 miles; drivetrain: 4 years/50,000 miles; roadside assistance: 4 years/unlimited; corrosion: 12 years/unlimited
While not luxurious, the attractive interior of the V60 Cross Country is well above average. It comes with numerous standard features, including panoramic sunroof, roof rails, leather upholstery, heated, power-adjustable front seats with memory function, a 12.3-inch digital instrument panel, 9-inch infotainment touchscreen, 10-speaker audio system, and Android Auto and Apple CarPlay integration.
New this year is the Google-based infotainment system. The owner can sign into their Google account to collect one's favorites or contacts. Voice commands are operated by Google Assistant, which doesn't require the remembrance of specific phrases to adjust the settings. What is tricky is mastering the infotainment system.
Seating is extremely generous in both rows, providing lots of comfort, along with sizable head and leg room. One expects lots of space with a wagon, and the V60 Cross Country delivers. It has 23.2 cubic feet behind the second row and expands to 50.9 cubes with the seat folded down.
We understand that U.S. car buyers love their SUVs, yet there is a place for capable wagons like the 2023 Volvo V60 Cross Country. It has style, lots of space in a smartly designed interior, solid gas mileage, and the performance is commendable.
Weidel on Wheels is featured regularly on www.tahoeskiworld.com. Auto writer Jeffrey Weidel can be reached at [email protected]. Follow him on Twitter at @jeffweidel.