After getting battered throughout February, another storm will hit Tahoe ski resorts on March 1.
According to Bryan Allegretto, OpenSnow California Snow Forecaster, Tahoe ski resorts could receive as much as 18 inches of snowfall between Friday (March 1) and Sunday.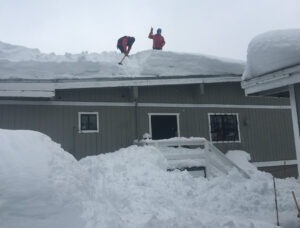 Allegretto says the next storm arrives Friday night with heavy snow into Saturday morning, and then snow showers lingering into Sunday.
This storm could see snow levels start around 5,500 feet and rise to around 6,500 feet by Saturday evening into Sunday. Allegretto believes there could be 6-18 inches of snow at Tahoe ski resorts over the weekend, and 1-6 inches at lake level.
Allegretto is predicting a break in the weather Monday, then the next storm moves in Tuesday (March 5) and could last into Thursday. The second storm could bring as much as 2-plus feet of snow.
February in Lake Tahoe was one for the record books. South Lake Tahoe area ski resorts – Heavenly Mountain, Sierra-at-Tahoe, Kirkwood Mountain – all received huge amounts of snowfall due to 19 out of 28 February snow days.
"Who knows what madness March will bring, but skiers are reveling in endless, free-refill powder days," said Carol Chaplin, president and CEO of the Lake Tahoe Visitors Authority.
Resorts Extend Ski Season: All three Vail Resorts in the Lake Tahoe region – Heavenly Mountain, Northstar California, Kirkwood Mountain – said Thursday (Feb. 28) they are planning to stay open due to the excessive amount of snow that has been piling up throughout February.
Skiing and snowboarding Lake Tahoe has never been better in terms of snow conditions. The three resorts are currently planning to extend their seasons and include a special extended season terrain offering:
During the month of February, Northstar received 286 inches of snow, Kirkwood had 271 inches and Heavenly's monthly total was 269 inches.
Closing Time
Heavenly Mountain: The South Lake Tahoe resort plans to extend the season through April 28, with a bonus 3-day-weekend May 3-5.
Northstar California: Located off Highway 267 in Truckee, Northstar plans to extend the season through April 21.
Kirkwood Mountain: The resort off Highway 88 will extend the season through April 14 with a bonus 3-day-weekend April 19-21.
Records fall in February: Sugar Bowl has received 267 inches of snow in February, beating its previous snowfall record of 263 inches in February 1993. Season-to-date (Feb. 27), Sugar Bowl has received 503 inches of snow.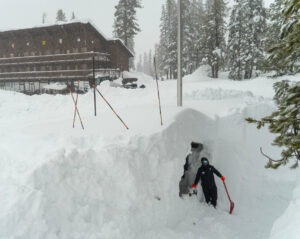 Squaw Valley has received the most February snow – 313 inches – of any Tahoe ski resort, shattering its previous record for most snow in a month. Squaw Valley has received 570 inches of snowfall this season.
Sierra Snowpack: The Sierra snowpack, measured by the California Department of Water Resources, is 153 percent of average for this time of year.
Snow totals to date are already above average with some Tahoe ski resorts reporting over 500 inches and many of them well over the 400-inch mark.
Safe travels: Monitor Caltrans and Nevada Department of Transportation (NDOT) website and social media accounts on closures, re-openings, chain controls, etc. visit the CalTrans website.