In what is playing like a familiar tune, once again the snow is pounding Tahoe ski resorts.
It's been quite the month for snow at Tahoe ski resorts. So much snow has fallen that locals have dubbed it "FebruBURIED."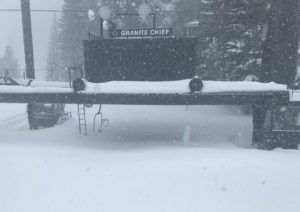 At Squaw Valley, employees were busy Tuesday (Feb. 26) measuring the snow in anticipation of setting an all-time monthly snow total. The record arrived by early afternoon when 6 inches was measured, giving Squaw Valley 286 inches of snow in February. The old mark of 282 inches was set in January 2017.
Squaw finished with 313 inches of snow in February.
Tuesday's snow, combined with 22 inches that arrived in the previous 24 hours, gave Squaw 543 inches (45-plus feet) for the 2018-19 season, the most among Tahoe ski resorts. Last week Squaw Valley had the second most snow among North American ski resorts, creating quite a winter playground for skiing and snowboarding Lake Tahoe
"And this storm is not over yet. We expect to receive even more snow over the next few days," said Squaw Valley spokesperson Alex Spychalsky.
A steady snowfall has been taking place since early Monday afternoon. However, the original forecast of 4-8 feet of snow at upper levels has been downgraded. The National Weather Service (NWS) in Reno issued a Tuesday morning update that reduced the snow total to 2-4 feet at higher elevations.
The NWS is predicting heavy snow Tuesday night into Wednesday morning. A lull in heavier snow is possible Wednesday afternoon and evening.
Both Boreal Mountain and Soda Springs received the most snow among Tahoe ski resorts during the 24-hour period with 30 inches. Boreal is nearing the 500-inch mark with a season-total of 479. Northstar California also received 20 inches of new snow and now has 482 inches this season.
The snow also keeps piling up at Sugar Bowl, which received 28 inches by Tuesday morning. That lifted Sugar Bowl's season snow total to 475 inches.
Homewood received 20 inches of snow, pushing the resort over the 500-inch mark at 503.
However, the snowy conditions created other problems. Roads were a mess Monday night and Tuesday. Mt. Rose ski resort was closed Tuesday due to the Mt. Rose Highway (State Route 431) being shut down.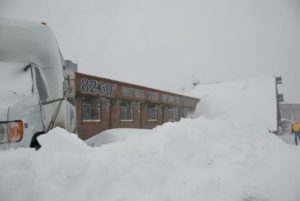 Squaw Valley and Alpine Meadows had limited operations Tuesday thanks to high avalanche danger and strong winds (85 mph gusts). Diamond Peak experienced a power outage at its base operations and closed in the afternoon. Diamond Peak is working to fix the problem and get the mountain open by Wednesday morning.
TAHOE SNOW REPORT (24-hour totals; reported Feb. 25)
Alpine Meadows: 20 inches
Boreal Mountain: 30 inches
Diamond Peak: 15 inches
Heavenly Mountain: 8 inches
Granlibakken: 6 inches
Homewood Mountain: 20 inches
Kirkwood Mountain: 13 inches
Mt. Rose: 21 inches
Northstar California: 20 inches
Sierra-at-Tahoe: 13 inches
Soda Springs: 30 inches
Squaw Valley: 22 inches
Sugar Bowl: 28 inches